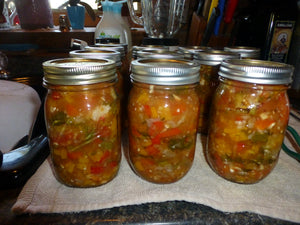 Canning 101 Class
Regular price $30.00 Sale
            Cost Effective         Customized         Delicious
Shepherdess Celeste's favorite preservation method for the Shepherd's Heart Farm harvest is canning.  I love canning for many reasons!  Here are just a few of the reasons:
Self Reliance
Flavor
Many fresh foods increase in nutritional value when canned
Vitamins may be lost with any preservation method, but with canning all your minerals stay in your product
Customize, according to what you like
Long shelf life
Our textbook will be the Ball Blue Book so bring yours to class.  You will learn in this class:
How to can safely
When to can and when not to can
Learn both hot water and pressure canning
We will then can whatever is in season at Shepherds Heart Farm.  Each student will come home with a canned good that you canned!
Class length:  Allow 5 hours, but it will depend what is available and what you want to can.  We will collect our harvest from the gardens and then can it.
Family Friendly Class
Minimum 5 students per class and maximum of 10 students.