What is on my radar?

Levitation and Gravity
Vaccine distribution Plans and Phase Framework (who gets what and when)
What is a Conspiracy Theory?
Internet Beaming Balloons
Biosecurity in the Persian-Babylonian Era and why it matters to you

Celestial Wonders Truth Hunters
TV Channel

My guest this week is Bob Griswold of Ready Made Resources.

Celestial Report
Informing the Radiant Remnant

Weather and Space Weather

Your space weather for today is Flatline Quiet.  If this persists a health advisory will be announced.

3 Day Forecast: Quiet
Cosmic Rays:  Historic High.  You need radiation protection.  My book, Electromagentic Radiation Protection Solutions tells you how.

Featured Weather Articles
Researchers measure Earth's magnetic field in Jerusalem in 586 BCE
Researchers from Tel Aviv University, the Hebrew University of Jerusalem, and the Israel Antiquities Authority were able to measure the Earth's magnetic field in Jerusalem in 586 BCE-- the time when the city was destroyed by the Babylonians. The groundbreaking study widened the understanding of the ruins of Jerusalem and shaped a contribution by Jewish people's long memory to uncover traces of the planet's history.
According to lead author Yoav Vaknin, the study breaks new grounds in understanding the devastation of Jerusalem and also gives key insights in a scientific discipline that has vast significance in many contemporary aspects of life-- from navigation systems to environmental concerns. 
~~~
Government
Leaked Census Document Warns of Possible 'Serious Errors' in 2020 Count
The compressed timeframe is forcing the agency to make sacrifices, document shows.
"It doesn't matter how many bodies I send in, or how much money we try to spend, we may not get there by Sept. 30, just because of conditions out of everybody's control," he said. "That's what keeps me up at night."  Link
~~~
Mark of the Beast and depopulation plans soon underway.  I give you more details at the Celestial Report
TESTING
The Rockefeller Foundation COVID-19 Testing Solutions Group recommended that the US be capable of conducting 30 million diagnostic tests per week by October—a combination of 5 million PCR-based tests and 25 million rapid antigen tests. 
VACCINE DISTRIBUTION PLANS
The US government is partnering with 4 states—California, Florida, Minnesota, and North Dakota—and Philadelphia to draft plans to distribute and administer COVID-19 vaccines. State and local governments already have plans to distribute and dispense or administer MCMs, including vaccines, for other scenarios like pandemic influenza and deliberate biological attacks; however, a mass vaccination effort on a nationwide scale would likely exceed the volume possible under existing plans. The new plans include provisions to establish mass vaccination sites (eg, points of dispensing [PODs]) due to the potential that an approved vaccine may need to remain frozen, which would require large vaccine freezers that could preclude some local healthcare providers from storing and administering the vaccine. 

DRAFT COVID-19 VACCINE ALLOCATION FRAMEWORK
Researchers at the National Academies of Sciences, Engineering, and Medicine (NASEM) published a draft framework to support efforts to equitably allocate limited supply of COVID-19 vaccine once it becomes available. It is expected that the initial production capacity of any COVID-19 vaccine will be insufficient to provide it broadly to the public all at once. Production will scale up over time, but the initial doses will need to be prioritized to specific populations until enough is available to expand access to everyone. The committee considered a variety of challenges and factors in its analysis, including health disparities, characteristics of prospective vaccines, and geographic distribution of the US epidemic. 
The framework includes 4 phases:
Phase 1a:  Priority access for "high risk workers in health care facilities" and first responders  and individuals at the highest risk for infection and severe disease or death.
Phase 1b: Older individuals living in congregate settings and those with serious underlying health conditions.
Phase 2: Would expand access to other higher-risk essential workers, all older adults, those with less severe comorbidities, and individuals living in other congregate settings (eg, incarcerated populations, homeless shelters).
Phase 3: Would open access to the remaining essential workers, young adults, and children.
Phase 4: Would provide access broadly to remaining portions of the public. 
 Military
The government and military will be using information warfare to control the narrative in the events to come.  Today what we look at, in their minds, is a Conspiracy Theory.

To control the narrative, whatever it might be is to control the belief system of his or her audience. 
They then insert their vision of identity into the crowd. 
They define the meanings and pour content into this artificial reality, much like a storyteller. 
This brings that identity to life. 
Now think of Revelation 13.
Geopolitical
Chinese Nuclear
Released Tuesday, the report presents DoD's assessement that China will "at least double" its nuclear stockpile to about 400 warheads and is strengthening its nuclear deterrence. Read on,
here
~~~
Brazil is sliding into techno-authoritarianism
For many years, Latin America's largest democracy was a leader on data governance. In 1995, it created the Brazilian Internet Steering Committee, a multi-stakeholder body to help the country set principles for internet governance. In 2014, Dilma Rousseff's government pioneered the Marco Civil (Civil Framework), an internet "bill of rights" lauded by Tim Berners-Lee, the inventor of the World Wide Web. Four years later, Brazil's congress passed a data protection law, the LGPD, closely modeled on Europe's GDPR. Link
Food Supply
"From the introduction of automated, contactless sales amidst the rising food safety concerns to safe online purchasing and offline food delivery involving 'no-touch' technology, the food and beverage industry seems to be dancing to a very different tune," says a food and beverage industry expert at Infiniti Research.
Infiniti's industry experts identified and discussed the following three significant food and beverage industry trends:
Rise in the demand for easy-to-prep meals
Increasing concern about product safety requires ample transparency and visibility in food and beverage consumers
Online buying has increased in the elderly population, which requires easy-to-use interfaces and clear images
~~~
The USDA wants to lull consumers but not really let them know where their food is coming from because soon it will be all laboratory engineered.
Judge leaves USDA to decide on 'Product of USA,' but FTC might lend a hand on the labels

The latest attempt to force the USDA to reinstate country of origin labeling (COOL) rules fell short. A federal judge in New Mexico granted motions on Aug. 27 by defendants Tyson Foods Inc., Cargill Meat
Link
Heavenlies
The first all-sky X-ray map to be released in 30 years reveals
new wonders of the hot and energetic universe.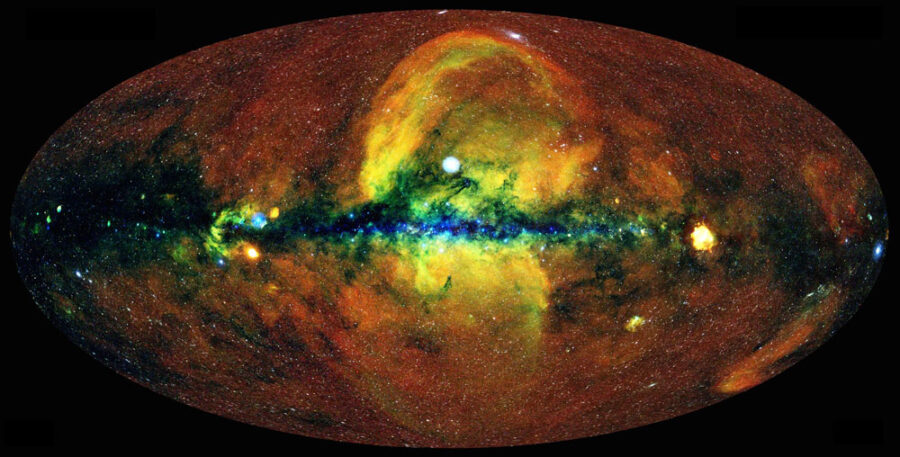 The eRosita space telescope, which
launched in July 2019
, has completed its first
full sweep across the sky
, mapping both hemispheres and cataloging more than 1 million X-ray sources. This is only the first all-sky map to be delivered: The mission plans to create seven more maps, combining them to achieve unprecedented sensitivity to the whole X-ray sky. 
Link
Earth Changes

Funny thing...this is what it looked and felt like this afternoon here in the Rockies.  Not normal.  Not normal at all.
Gravity wave insights from internet-beaming balloons
Giant balloons launched into the stratosphere to beam internet service to Earth have helped scientists measure tiny ripples in our upper atmosphere, uncovering patterns that could improve weather forecasts and climate models.  Link
Technology
Could Quantum Computing Progress Be Halted by Background Radiation?
Doing calculations with a quantum computer is a race against time, thanks to the fragility of the quantum states at their heart. And new research suggests we may soon hit a wall in how long we can hold them together thanks to interference from natural background radiation.  Link

~~~
Microsoft launches a deepfake detector tool ahead of US election

Microsoft
has added to the slowly growing pile of technologies aimed at spotting synthetic media (aka deepfakes) with the launch of a tool for analyzing videos and still photos to generate a manipulation score. 
Link
~~~
Stream or Skip? A Synthetic Biologist's Review of 'Biohackers' on Netflix
Glow-in-the-dark mice, gene-modded weed, and payment microchips in your hand? That's the surprisingly realistic science backdrop of Biohackers, but that's where it stays.
Biohackers, the six-episode German sci-fi series set in Freiburg, was released on August 20th. Biohacking is an umbrella term comprising synthetic biology, DIY science, bodyhacking, and health optimization.
History
Solving the Decades-Old Mystery of the White Box That Fell From the Sky
David McPherson Sr. suspected the CIA was responsible. He was right.
In 1962, in the woods outside Moncton, New Brunswick, around 160 miles east of the Maine border, David McPherson Sr. found a very large white box adorned with some very large lenses. It was attached to a parachute, so McPherson thought it might be an American spy camera, possibly launched by the Central Intelligence Agency. The fact that Canadian military tried to take the box from him—before McPherson and his family voluntarily relinquished it in exchange for answers that never came—only added to his suspicions.  Link
Ancient Civilizations
Cursed Biblical City Bethsaida May Have Been Found – But Scientists Argue About The Discovery
Bethsaida is frequently mentioned in the Gospel, and archaeologists have long tried to locate this Biblical place. It was not really a city, but more like a village or small town.
The Biblical story dealing with Bethsaida ("house of fishing" or "place of hunting" in Hebrew) is rater interesting because this was the place where Jesus performed many of his miracles, and yet, the village was cursed for its lack of faith (Luke 10:13-15).
A reconstruction that shows what Bethsaida may have looked like. 
In the New Testament John 1:44, it is written that Bethsaida was home to all three of the apostles. Luke 9:10-17 described the location where Jesus fed five thousand people with only five loaves of bread and two fish, and Mark 8:22-26 reads it was the location Jesus also healed a blind man.  Link
Biblical
Exploring the Reign of King Herod the Great
This BAS Library Special Collection examines the complex rule of King Herod, from his use of architecture as a manifestation and extension of power, to his "horrid" demise that many suggest was well-deserved after a notoriously cruel reign.
King Herod the Great ruled Judea from 37 B.C.E. until his death in 4 B.C.E. Outside of Judea, the Greeks and Romans found his charm (and his extravagant benefactions) irresistible. He generously endowed the Greek Olympic Games, sponsored building projects in prestigious cities such as Athens and Rhodes, and erected public buildings, palaces, and even entire cities, some of which still astonish visitors.
At home, however, King Herod was despised for his ruthless oppression and cruelty. His many endeavors came at a considerable cost to his Jewish subjects through heavy taxes. He executed his wife, Miriamme, because he suspected her of adultery. And he may be most well-known by biblical scholars for his order to kill all children under the age of two in and around Bethlehem shortly after the birth of Jesus.
A new special collection from Biblical Archaeology Review brings together a hand-picked selection of articles recounting the impact of King Herod's dominion over ancient Mediterranean lands. Read about Herod the man, the cruelty that defined his rule, and learn about the archaeological explorations of his buildings, and the Roman-inspired style that came to be known as "Herodian."
Medical and Health
Apple and Google have launched coronavirus exposure notifications without an app
The news: Apple and Google have announced they're expanding their coronavirus exposure warning system so health agencies can take part without needing to create a customized app. Four US states will be the first to sign up to use the revamped system: Maryland, Nevada, Virginia, and Washington, DC.
How it works: In states or regions which have enabled the "Exposure Notifications Express" tool, a prompt will flash up on phones with the latest version of Apple or Android's operating system, informing the user they are able to access it. ... All the agency has to do is provide Apple and Google with some basic information and set up servers to host Bluetooth keys and exposure verification.
~~~
Vibration overcomes gravity on a levitating fluid
Counter-intuitive phenomena that arise in fluids under the action of vibration have attracted considerable research interest since the 1950s. For example, in a vibrating volume of fluid, gas bubbles can sink and heavy particles can rise
1
–
3
. Moreover, a layer of fluid can be levitated above a layer of air by shaking the system vertically at a relatively high frequency (of the order of 100 hertz or more)
4
.
Writing in Nature
, Apffel
et al
.
5
report another remarkable phenomenon associated with a vibrating, levitated layer of fluid: objects can float upside down on the lower interface of the fluid, as if gravity were inverted (Fig. 1). These phenomena have strong potential for practical use
3
, for example in systems that involve gas bubbles suspended in fluids (such as bubble column reactors used for gas–liquid reactions), and for the segregation and transport of material inclusions in fluids (as used in mineral processing and waste-water treatment). 
Link
Last Word
Biosecurity of the Media-Babylonian Empire
Believe it or not, the Bible is filled with wise advice on biosecurity, a topic we are hearing much about these days. As we examine the Book of Esther we see that it was the custom of the Babylonian-Media Empire to quarantine people, in this case, young maidens, for twelve months prior to their exposure to the king.  We find this in Esther 2:12.  It was not an arbitrary amount of time, but a prescribed or set time of twelve months to elapse so that any symptoms of illness would surface during that time. 
As the Book of Esther is a direct parallel, a template-if you will, to the events of the Book of Revelation.  It should not come as a surprise to us that Biosecurity is once again in news and policy.  Will we see the return of twelve month quarantines?  I believe we will. 
God Bless you from the trenches. 
Celeste
____________________________________________________________
Celeste has worked as a contractor for Homeland Security and FEMA. Her training and activations include the infamous day of 911, flood and earthquake operations, mass casualty exercises, and numerous other operations. Celeste is FEMA certified and has completed the Professional Development Emergency Management Series. 
Train-the-Trainer

 

Incident Command

 

Integrated EM: Preparedness, Response, Recovery, Mitigation

 

Emergency Plan Design including all Emergency Support Functions

 

Principles of Emergency Management

 

Developing Volunteer Resources

 

Emergency Planning and Development

 

Leadership and Influence, Decision Making in Crisis

 

Exercise Design and Evaluation

 

Public Assistance Applications

 

Emergency Operations Interface

 

Public Information Officer

 

Flood Fight Operations

 

Domestic Preparedness for Weapons of Mass Destruction

 

Incident Command (ICS-NIMS)

 

Multi-Hazards for Schools

 

Rapid Evaluation of Structures-Earthquakes

 

Weather Spotter for National Weather Service

 

Logistics, Operations, Communications

 

Community Emergency Response Team Leader

 

Behavior Recognition

 
Celeste grew up in military & governmental home with her father working for the Naval Warfare Center, and later as Assistant Director for Public Lands and Natural Resources, in both Washington State and California. 
Celeste also has training and expertise in small agricultural lobbying, Integrative/Functional Medicine, asymmetrical and symmetrical warfare, and Organic Farming.

Order Celeste's E-Books today!
The 7 Thunders Revealed
PDF

Electromagnetic Radiation Protection Solutions
REVISED EDITION
The best way to support my work is through PayPal
Thank you to my patrons who make my writings possible.  You are each precious soul to my heart.
PLEASE NOTE:  At this time I am unable to have lengthy conversations.  Please make questions succinct and brief and I will answer them as time allows.  I apologize ahead of time.  I would love to answer your personal long emails or phone calls, but I cannot right now.  Email is the best way to contact me from now moving forward. Now is the time to focus. I am working 22 hours a day on the Lord's and your behalf.  There is only one of me and one energetic puppy.
My educational eBooks
Prep Resources for the Climate Chaos
Climate Revolution:  The Grand Solar Minimum