January 8, 2020
Thank you to my patrons who make my writings possible.  You are each precious soul to my heart. 
Save the Dates:

  Celeste's Interview schedule:

The Edge, this Saturday, January 11th, with Daniel Ott the Cosmic Cowboy talking current events and taking your questions

Coast to Coast AM:  Wednesday, January 15th with George Noory at the helm, as we discuss past and coming cataclysms
What is on my radar?

Highlight's
Impossible Meat Soylent Green?
Red Devil Horns
Norway Shockwave
Demons-Epilepsy-Bennu-Children dropping dead connected?

Your space weather for today is: Quieting but last night there was a massive coronal mess ejection (CME) that if it was earth facing would have taken out the grid.  Solar Cycle 25 may be called with all the awakening activity on the sun.  It is HIGHLY LIKELY the grid will go down during this solar cycle so be prepared. 

Cosmic rays can seed clouds, trigger lightning, and penetrate commercial airplanes. Furthermore, there are studies ( #1, #2, #3, #4) linking cosmic rays with cardiac arrhythmias and sudden cardiac death in the general population. Our latest measurements show that cosmic rays are intensifying.
Oulu Neutron Count of Cosmic Rays is High (but decreasing)

Thermosphere is cold:
Weather and Space Weather

Snowball Earth
Government
Geopolitical
The United States designated Iran a "State Sponsor of Terrorism" in 1984 and since then, Iran has actively engaged in or directed an array of violent and deadly acts against the United States and its citizens globally. The United States designated Iran's Islamic Revolutionary Guard Corps (IRGC) a Foreign Terrorist Organization on April 15, 2019 for its direct involvement in terrorist plotting.•
On January 2, 2020, the United States carried out a lethal strike in Iraq killing Iranian IRGC-Quds Force commander Qassem Soleimani while Soleimani was in Iraq.
Iranian leadership and several affiliated violent extremist organizations publicly stated they intend to retaliate against the United States.
At this time we have no information indicating a specific, credible threat to the Homeland. Iran and its partners, such as Hizballah, have demonstrated the intent and capability to conduct operations in the United States.
Previous homeland-based plots have included, among other things, scouting and planning against infrastructure targets and cyber-enabled attacks against a range of U.S.-based targets.
Iran maintains a robust cyber program and can execute cyberattacks against the United States. Iran is capable, at a minimum, of carrying out attacks with temporary disruptive effects against critical infrastructure in the United States.
Iran likely views terrorist activities as an option to deter or retaliate against its perceived adversaries. In many instances, Iran has targeted United States interests through its partners such as Hizballah.
Homegrown Violent Extremists could capitalize on the heightened tensions to launch individual attacks.
An attack in the homeland may come with little or no warning.
The Department of Homeland Security is working closely with our federal, state, local, and private sector partners to detect and defend against threats to the Homeland, and will enhance security measures as necessary
~~~~~~~~~~~~~~~~~~~~~~~~~~~~~~~~~~~~~~~~~~~~~~~~~~~~
Military
What US Intelligence Thought 2020 Would Look Like
A 2004 National Intelligence Council report was eerily prescient in some ways, and totally off in others.
Food Supply
~~~~~~~~~~~~~~~~~~~~~~~~~~~~~~~~~~~~~~~~~~~~~~~~~~~~~
Heavenlies
DAWN OF EVIL
Incredible 'red devil horns' sunrise photos captured during rare solar eclipse mirage over the Persian Gulf
You can usually see these horns in many hieroglyphics around the word.  They symbolize many things but are an eclipse that happens in the New Year.
Earth Changes
Stratospheric eruption today at Shishaldin volcano, Alaska — color code raised to Red  Link

~~~~~~~~~~~~~~~~~~~~~~~~~~~~~~~~~~~~~~~~~~~~~~~~~~~~
From spaceweather.com
ELECTRICITY SURGES THROUGH THE SOIL OF NORWAY:
Jan. 6th, something unexpected happened in the soil of northern Norway. "Electrical currents started flowing," reports Rob Stammes, who monitors ground currents at the Polarlightcenter geophysical observatory in Lofoten. This chart recording shows the sudden surge around 1930 UT: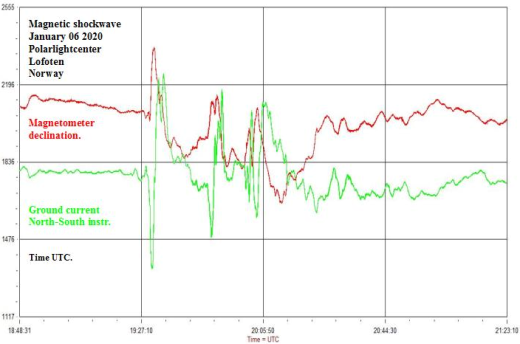 "It seemed to be some kind of shockwave," says Stammes. "My instruments detected a sudden, strong variation in both ground currents and our local magnetic field. It really was a surprise."
NASA's ACE spacecraft detected something as well. About 15 minutes before the disturbance in Norway, the interplanetary magnetic field (IMF) near Earth abruptly swung around 180 degrees, and the solar wind density jumped more than 5-fold. Earth may have crossed through a fold in the heliospheric current sheet--a giant, wavy membrane of electrical current rippling through the solar system. Such crossings can cause these kinds of effects.
~~~~~~~~~~~~~~~~~~~~~~~~~~~~~~~~~~~~~~~~~~~~~~~~~~~~~
I have reported this but this article is so succient
Continents of the Underworld Come Into Focus
Decades ago, scientists first harnessed the echoes of earthquakes to make a map of Earth's deep interior. They didn't just find the onion layers you might remember from a grade school textbook — core and mantle covered by a cracked crust. Instead, they saw the vague outlines of two vast anomalies, unknown forms staring back from the abyss.
~~~~~~~~~~~~~~~~~~~~~~~~~~~~~~~~~~~~~~~~~~~~~~~~~~~~
As our magnetosphere declines cosmic rays are flooding the earth and penetrating the earth's crust and mantle energizing silica-rich dormant volcanoes.
Extinct volcanoes are coming back to life
Technology
Sanctuary.ai will only release a teaser that it is creating the bodies for embodiment.
The habitation of demons and devils.
~~~~~~~~~~~~~~~~~~~~~~~~~~~~~~~~~~~~~~~~~~~~~~~~~~~~~~
History
Ancient Civilizations
In the too weird, or not coincidental category:
This Demon, Immortalized in 2,700-Year-Old Assyrian Tablet, Was Thought to Cause Epilepsy
The damaged drawing was hidden on the back of a clay cuneiform tablet

A scholar spotted the long-overlooked image (its horns and face are at left, its legs on the right) while conducting research at a Berlin museum. (Courtesy of Staatliche Museen zu Berlin - Vorderasiatisches Museum, Olaf M. Teßmer)
Biblical
Medical
Sudden Death in Children is increasing.  Epilepsy is overlapping with sudden cardiac death and arrhythmia.  This appears to be a frequency induced situation.  Be alert!
Systematic Review of the Genetics of Sudden Unexpected Death in Epilepsy: Potential Overlap With Sudden Cardiac Death and Arrhythmia-Related Genes.
~~~~~~~~~~~~~~~~~~~~~~~~~~~~~~~~~~~~~~~~~~~~~~~~~~~~

Nightmare from 2019-One health is Agenda 21

Last Word
I was lead in these days where we may see many a demon, many being Legion,  Mark 5-A Demon-Possessed Man Healed
5 

Then they came to the other side of the sea, to the country of the Gadarenes.
2 And when He had come out of the boat, immediately there met Him out of the tombs a man with an unclean spirit,
3 who had his dwelling among the tombs; and no one could bind ]him, not even with chains,
4 because he had often been bound with shackles and chains. And the chains had been pulled apart by him, and the shackles broken in pieces; neither could anyone tame him.
5 And always, night and day, he was in the mountains and in the tombs, crying out and cutting himself with stones.
6 When he saw Jesus from afar, he ran and worshiped Him. 7 And he cried out with a loud voice and said, "What have I to do with You, Jesus, Son of the Most High God? I implore You by God that You do not torment me."
8 For He said to him, "Come out of the man, unclean spirit!" 9 Then He asked him, "What is your name?"
And he answered, saying, "My name is Legion; for we are many." 10 Also he begged Him earnestly that He would not send them out of the country.
11 Now a large herd of swine was feeding there near the mountains. 12 So all the demons begged Him, saying, "Send us to the swine, that we may enter them." 13 And]at once Jesus gave them permission. Then the unclean spirits went out and entered the swine (there were about two thousand), and the herd ran violently down the steep place into the sea, and drowned in the sea.
14 So those who fed the swine fled, and they told it in the city and in the country. And they went out to see what it was that had happened. 15 Then they came to Jesus and saw the one who had been demon-possessed and had the legion, sitting and clothed and in his right mind. And they were afraid. 16 And those who saw it told them how it happened to him who had been demon-possessed, and about the swine. 17 Then they began to plead with Him to depart from their region.
18 And when He got into the boat, he who had been demon-possessed begged Him that he might be with Him. 19 However, Jesus did not permit him, but said to him, "Go home to your friends, and tell them what great things the Lord has done for you, and how He has had compassion on you." 20 And he departed and began to proclaim in Decapolis all that Jesus had done for him, and all marveled.
God Bless you from the trenches.  Be safe everyone.
Celeste
____________________________________________________________
Celeste has worked as a contractor for Homeland Security and FEMA. Her training and activation's include the infamous day of 911, flood and earthquake operations, mass casualty exercises, and numerous other operations. Celeste is FEMA certified and has completed the Professional Development Emergency Management Series.
Train-the-Trainer
Incident Command
Integrated EM: Preparedness, Response, Recovery, Mitigation
Emergency Plan Design including all Emergency Support Functions
Principles of Emergency Management
Developing Volunteer Resources
Emergency Planning and Development
Leadership and Influence, Decision Making in Crisis
Exercise Design and Evaluation
Public Assistance Applications
Emergency Operations Interface
Public Information Officer
Flood Fight Operations
Domestic Preparedness for Weapons of Mass Destruction
Incident Command (ICS-NIMS)
Multi-Hazards for Schools
Rapid Evaluation of Structures-Earthquakes
Weather Spotter for National Weather Service
Logistics, Operations, Communications
Community Emergency Response Team Leader
Behavior Recognition
Celeste grew up in a military & governmental home with her father working for the Naval Warfare Center, and later as Assistant Director for Public Lands and Natural Resources, in both Washington State and California.
Celeste also has training and expertise in small agricultural lobbying, Integrative/Functional Medicine, asymmetrical and symmetrical warfare, and Organic Farming..
My educational eBooks
Prep Resources for the Climate Chaos
Climate Revolution:  The Grand Solar Minimum
Trusted Source CBD Oil