11-13-2019
What is on my radar?

Thank you to my patrons who make my writings possible.  You are each precious soul to my heart. 

The best way to support my work is through Patreon or PayPal or purchase my new book,  Electromagnetic Radiation Protection Solutions, God's Marvelous Protective Provisions for the coming Nuclear and Cosmic Superstorm CRISIS
Join my patrons and myself as we study Psalm 91 and commit it to memory.
Remember:  the Gate of Repentance is always open!
Weather and Space Weather

Cooling patter over time, around the world

Frigid Grand Solar Minimum Continues

So cold that women are knitting blankets for elephants
'Brutal' Arctic blast is affecting 200 million people from Chicago to Texas, and it isn't over yet http://bit.ly/2Qf8rJM
Record cold, and coldest of the season http://bit.ly/2NH01ZD
Record cold on the way tonight, 100-year-old record to fall http://bit.ly/34QTtNU
The World Weather Chart Last 2000 Years http://bit.ly/371EYcb
Government
A judge said police could search the DNA of 1 million Americans without their consent. What's next?
For the first time, a state judge has forced a public genealogy site, GEDmatch, to allow police to search its entire database of DNA profiles. Read More
~~~~~~~~~~~~~~~~~~~~~~~~~~~~~~~~~~~~~~~~~
As Winter Deepens:  OPM Reminds Government Agencies of New Rules for Closure and Leave
The 2018 decision that employees who can work remotely usually cannot take leave due to a weather event that has created a cothat mplicated web of rules and exceptions.  Read More
Geopolitical
Breaking:  Epstein Island sold to wealthy Middle Eastern businessman Haadid Nahkil Muhssef
~~~~~~~~~~~~~~~~~~~~~~~~~~~~~~~~~~~~~~~
Just as the US and the West grapple with China's lead in next-gen 5G networking gear, Beijing announced two working groups focused on advancing 6G.
Military
Ladies, this is a must-read!
'That's When I Became A Sniper': Ukraine's Woman Vets Describe Their War

As the war in Ukraine smolders on, we sat down with women veterans who recount their experiences fighting to defend their country and each other. Read more
~~~~~~~~~~~~~~~~~~~~~~~~~~~~~~~~~~~~~~~~~~~
Teams Complete SubT Challenge Virtual Tunnel Circuit
With 50 total points, Coordinated Robotics finished in first place in the DARPA Subterranean (SubT) Challenge Virtual Tunnel Circuit event, and as the top self-funded team, earned $250,000. Eight teams developed, tested and submitted their software-based solutions for simulation-based evaluation on the SubT Virtual Testbed.
Food Supply
Heavenlies
The Curiosity rover detects oxygen behaving strangely, it seems to breathe

SAM has also found that over time, oxygen behaves in a way that can't be explained by any chemical process scientists currently understand.
Since it landed in Gale Crater in 2012, the Curiosity rover has been studying the Martian surface beneath its wheels to learn more about the planet's history. But Curiosity also stuck its nose in the air for a big sniff to understand the Martian atmosphere. Read More
~~~~~~~~~~~~~~~~~~~~~~~~~~~~~~~~~~~~~~~~~
Voyager 2's Trip to Interstellar Space Deepens Some Mysteries Beyond Our Solar System
The boundary region between the sun's sphere of influence and the broader Milky Way galaxy is complicated indeed.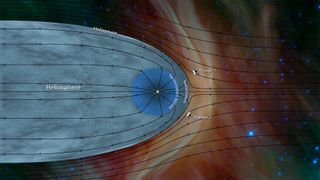 NASA's Voyager 2 spacecraft entered interstellar space in November 2018, more than six years after its twin, Voyager 1, did the same. Data from Voyager 2 has helped further characterize the structure of the heliosphere, the huge bubble the sun blows around itself.
Read More
Earth Changes
Shiveluch erupted yesterday to 33,000 feet injecting ash into the air that is still lingering
Volcanic activity worldwide 12 Nov 2019: Fuego volcano, Popocatépetl, Shiveluch, Dukono, Reventadorthroughout
~~~~~~~~~~~~~~~~~~~~~~~~~~~~~~~~~~~~~~~~~~~
Arctic Circle Marker
A giant concrete orb in far north Iceland marks the ever-shifting boundary. 
Marking the geographic boundary of the Arctic Circle isn't an easy job. It's a constantly moving target, shifting with the Earth's movement. And although the line is marked on maps at approximately 66.5 degrees north from the equator, its location is moving about 45 feet per year due to the fluctuating tilt of the Earth's axis
Technology
YouTube's Terms of Service Changes Spell Trouble For Conservative Channels
~~~~~~~~~~~~~~~~~~~~~~~~~~~~~~~~~~~~~~~~~~~
They do not account for chemical saturation that changes the freezing level
At What Temperature Does Water Freeze?
The answer is far more complicated than it first appears—water doesn't always turn to ice at 32 degrees Fahrenheit
The title of this post would seem an appropriate question for an elementary-school science exam, but the answer is far more complicated than it first appears. We've all been taught that water freezes at 32 degrees Fahrenheit, 0 degrees Celsius, 273.15 Kelvin. That's not always the case, though. Scientists have found liquid water as cold as -40 degrees F in clouds and even cooled water down to -42 degrees F in the lab. How low could they go?
  Read more


History
After underwater explorer Tim Taylor found the wreck of the U.S.S.
R-12
—a submarine that sank off Key West during World War II—in 2010, he decided to embark on an ambitious undertaking: namely, locating all 52 U.S. submarines lost over the course of the conflict.
Read more
Ancient Civilizations
This Map Lets You Plug in Your Address to See How It's Changed Over the Past 750 Million Years
The interactive tool enables users to home in on a specific location and visualize how it has evolved between the Cryogenian Period and the present
Biblical
Road Built by Pontius Pilate Discovered in Jerusalem
In a new paper published in Tel Aviv: Journal of the Institute of Archaeology of Tel Aviv University, researchers have identified the date of construction of a significant street in Jerusalem. The 2000-foot-long (600 meters) road connected the Siloam Pool to the Temple Mount. While the existence of the street has been known since the 19th century, it was only recently that scholars determined its date of construction. Archaeologists excavated beneath the street in areas that had been sealed by the street's mortar. They unearthed dozens of coins, with the latest one being a prutah minted by Pontius Pilate in 30/31 AD. Read more

Medical
The gene-editing of DNA inside living cells is considered by many to be the preeminent technological breakthrough of the new millennium. Researchers in medicine and agriculture have rapidly adopted it as a technique for discovering cell and organism functions. But its commercial prospects are much more complicated.
E.P.A. to Limit Science Used to Write Public Health Rules The Trump administration is preparing to significantly limit the scientific and medical research that the government can use to determine public health regulations, overriding protests from scientists and physicians who say the new rule would undermine the scientific underpinnings of government policymaking.
Last Word
They shall bear thee up in their hands, lest thou dash thy foot against a stone. Psalm 91:12
12.  They will carry you on their palms...  Your guardian angels are tasked with keeping you in the palms of their hands, especially when you are using your palms in the loving service of Jesus.  
Lest you strike your foot against a stone... Stones are the obstacles strewn in your path.  The person of faith treads a clear path, free from all such obstacles as if the forces of nature unite in their resolve to smooth your way as we see in Job 5:23:  For you shall be in league with the stones of the field.  The largest stone in our path is our flesh, which does not disturb a person of faith.  
How many of you have walked upon a rocky road?  I just had rather large round rocks put on my driveway as a consequence of no summer and lots of precipitation, making my driveway more like quick-mud than a driveway.  It takes some getting used to to walk down the driveway now, but I must put it in perspective.  One, it is much better than the muggy bog I had, and secondly, compared to a gigantic rock, the Rock of Jesus Christ, these little stones are nothing.
God Bless you from the trenches.  Be safe, everyone.
Celeste
____________________________________________________________
Celeste has worked as a contractor for Homeland Security and FEMA. Her training and activation's include the infamous day of 911, flood and earthquake operations, mass casualty exercises, and numerous other operations. Celeste is FEMA certified and has completed the Professional Development Emergency Management Series.
Train-the-Trainer
Incident Command
Integrated EM: Preparedness, Response, Recovery, Mitigation
Emergency Plan Design including all Emergency Support Functions
Principles of Emergency Management
Developing Volunteer Resources
Emergency Planning and Development
Leadership and Influence, Decision Making in Crisis
Exercise Design and Evaluation
Public Assistance Applications
Emergency Operations Interface
Public Information Officer
Flood Fight Operations
Domestic Preparedness for Weapons of Mass Destruction
Incident Command (ICS-NIMS)
Multi-Hazards for Schools
Rapid Evaluation of Structures-Earthquakes
Weather Spotter for National Weather Service
Logistics, Operations, Communications
Community Emergency Response Team Leader
Behavior Recognition
Celeste grew up in military & governmental home with her father working for the Naval Warfare Center, and later as Assistant Director for Public Lands and Natural Resources, in both Washington State and California.
Celeste also has training and expertise in small agricultural lobbying, Integrative/Functional Medicine, asymmetrical and symmetrical warfare, and Organic Farming..
My educational eBooks
Prep Resources for the Climate Chaos
Climate Revolution:  The Grand Solar Minimum
Trusted Source CBD Oil