Live Interview Tonight on Lost Arts Radio talking about the new declared Medical Marshal Law
https://www.lostartsradio.com/
5:30 PM MT
New Intel Thread for Patrons:  Link
I will be a Key Note speaker at:
Learn more about this cyclical event at Branson!
What is on my radar?
Extinction Cycles, Cosmic Rays, Coronavirus

Cosmic rays are raining on your parade bringing mutations and extinctions to all biologic life.  Right now, you and the coronavirus are experiencing a 12% increase of cosmic rays than if this situation had occurred three years ago. How does this impact you?
You are receiving sufficient doses of radiation that lower your immune system to fight coronavirus or any pathogen.
Cosmic rays impact your microbiome causing instabilities to occur making you more vulnerable to any disease, of any kind. Every organ in your body and all hormones are impacted.
This radiation can and will mutate the coronavirus and other pathogens making a vaccine option no realistic.  By the time the vaccine is developed and deployed the pathogen such as coronavirus will have mutated, not to mention coronavirus has many faces making it impossible to get a true vaccine. 
Cosmic ray mutation of pathogens is going to increase pestilence and plagues of all kinds around the world. 
Cosmic rays are increasing due to the Grand Solar Minimum and changes to the earth's magnetosphere.  This situation will increase and continue for the rest of your lifetime. This is a 12,000-year cyclical event.
Hiding in caves or subterranean labyrinths will not help, as the rays are potent enough to penetrate the earth's crust. 
There are things you can do.  Provide layers of supplements and foods that are radioprotective.  Please purchase my book, at the bottom of this article for a user-friendly reference guide to these foods and supplements.
Here are the details on the increase in cosmic rays from spaceweather.com:
NEW ATMOSPHERIC RADIATION MEASUREMENTS: We're back from the Arctic, and we have some new results to share. In January 2020, the students of Earth to Sky Calculus and Spaceweather.com traveled to Abisko, Sweden, to launch a pair of cosmic ray balloons. We'd been there before, launching three identical balloons in March 2017. Putting all the data together, 2017+2020, we find that radiation has increased +12% in the past 3 years: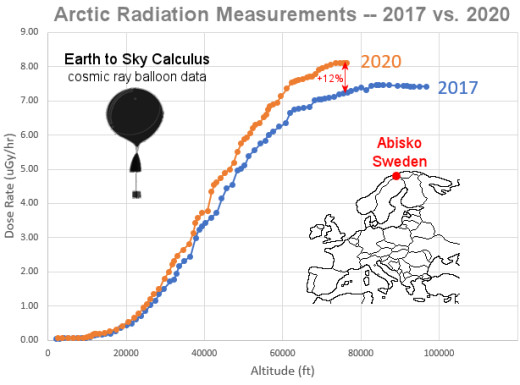 The graph shows the radiation dose rate (uGy/hr) vs. altitude (feet) all the way from ground level to the stratosphere. Radiation appears to be increasing at nearly all altitudes--even in the range 25,000 ft to 40,000 ft where airplanes fly. Polar flight crews and passengers are therefore absorbing ~12% more cosmic radiation than they did only a few years ago.
What's causing the increase? Solar Minimum. At the moment, the sun is near the bottom of the 11-year solar cycle. During Solar Minimum, the sun's magnetic field weakens, allowing extra cosmic rays from deep space to penetrate the solar system. These cosmic rays are hitting Earth's atmosphere, creating a spray of secondary cosmic rays that shower toward the ground below.
Secondary cosmic rays are what we measure. Radiation sensors onboard our helium balloons detect X-rays and gamma-rays in the energy range 10 keV to 20 MeV, similar to what you get from medical X-ray machines and airport security scanners.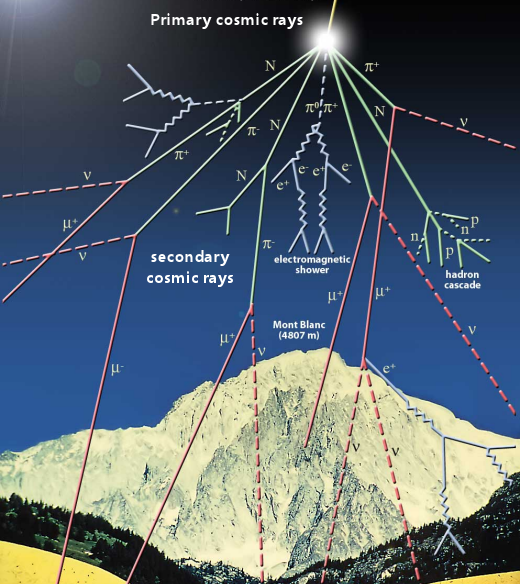 Above: Schematic diagram of a cosmic ray air shower. Learn more from CERN.
We've been launching radiation sensors almost weekly for 5 years--mainly from California, the "home base" of Spaceweather.com. Cosmic rays in the stratosphere have been increasing the entire time, a sign of deepening Solar Minimum.
The new data from Abisko, Sweden, show the increase is not limited to the stratosphere. It is also happening at aviation altitudes with a 3-year increase of ~12% even below 40,000 ft. We're planning another ballooning trip to Sweden in August 2020 to confirm these results. Stay tuned.
Be safe and blessings everyone,
Celeste
__________________________________________________________
REVISED EDITION Electromagnetic Radiation Protection Solutions

PAPERBACK Link
KINDLE Link

PDF Link
The 7-Thunders Revealed
PDF BUNDLE  Link
The best way to support my work is through Patreon or PayPal
Thank you to my patrons who make my writings possible.  You are each precious soul to my heart. 
Celeste has worked as a contractor for Homeland Security and FEMA. Her training and activations include the infamous day of 911, flood and earthquake operations, mass casualty exercises, and numerous other operations. Celeste is FEMA certified and has completed the Professional Development Emergency Management Series.
Train-the-Trainer
Incident Command
Integrated EM: Preparedness, Response, Recovery, Mitigation
Emergency Plan Design including all Emergency Support Functions
Principles of Emergency Management
Developing Volunteer Resources
Emergency Planning and Development
Leadership and Influence, Decision Making in Crisis
Exercise Design and Evaluation
Public Assistance Applications
Emergency Operations Interface
Public Information Officer
Flood Fight Operations
Domestic Preparedness for Weapons of Mass Destruction
Incident Command (ICS-NIMS)
Multi-Hazards for Schools
Rapid Evaluation of Structures-Earthquakes
Weather Spotter for National Weather Service
Logistics, Operations, Communications
Community Emergency Response Team Leader
Behavior Recognition
Celeste grew up in military & governmental home with her father working for the Naval Warfare Center, and later as Assistant Director for Public Lands and Natural Resources, in both Washington State and California.
Celeste also has training and expertise in small agricultural lobbying, Integrative/Functional Medicine, asymmetrical and symmetrical warfare, and Organic Farming.
My educational eBooks
Prep Resources for the Climate Chaos
Climate Revolution:  The Grand Solar Minimum