This article is dedicated to my faithful patrons who make my writings possible. The best way to support my work is through Patreon or PayPal or purchase my new book:
Electromagnetic Radiation Protection Solutions
G

o

d

'

s

M

a

r

v

e

l

o

u

s

P

r

o

t

e

c

t

i

v

e

P

r

o

v

i

s

i

o

n

s

f

o

r

t

h

e

c

o

m

i

n

g

N

u

c

l

e

a

r

a

n

d

C

o

s

m

i

c

S

u

p

e

r

s

t

o

r

m

C

R

I

S

I

S
REPOST: spaceweather.com
The cycles of history are returning real-time disrupting the Labor Day plans for many people.  Will the planetary alignment, earth weather, and sun-earth coupling produce a rerun to history.  We have been in a geomagnetic storm for over 48 hours, and the atmosphere and earth mantle are charged and ready for action.  Keep vigilant!  We are still in the thick of it, where anything can happen!
160 YEARS AGO, A GEOMAGNETIC MEGA-STORM
Picture this: A billion-ton coronal mass ejection (CME) slams into Earth's magnetic field. Campers in the Rocky Mountains wake up in the middle of the night, thinking that the glow they see is sunrise. No, it's the Northern Lights. People in Cuba read their morning paper by the red illumination of aurora borealis. Earth is peppered by particles so energetic, they alter the chemistry of polar ice.
Hard to believe? It really happened--exactly 160 years ago. This map shows where auroras were sighted in the early hours of Sept. 2, 1859: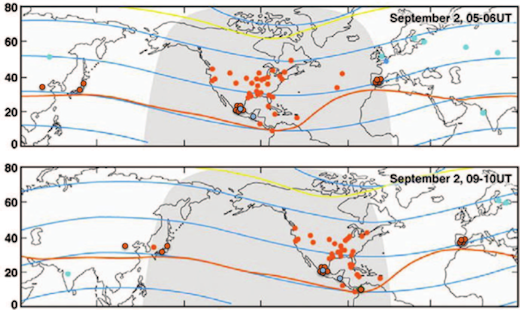 As the day unfolded, the gathering storm electrified telegraph lines, shocking technicians and setting their telegraph papers on fire. The "Victorian Internet" was knocked offline. Magnetometers around the world recorded strong disturbances in the planetary magnetic field for more than a week. The cause of all this was an extraordinary solar flare witnessed the day before by British astronomer Richard Carrington. His sighting on Sept. 1, 1859, marked the discovery of solar flares and foreshadowed a new field of study: space weather. According to a NASA-funded study by the National Academy of Sciences, if a similar storm occurred today, it could cause a trillion dollars in damage to society's high-tech infrastructure and require years for complete recovery.
Look up!  Your redemption draweth nigh.
Be safe everyone. 
___________________________________
Author Information

For those who are actively praying for my ministry, I humbly want to thank each one of you! 
If you consider this article informative, please consider becoming a Patron to support my work.
If you would like to purchase individual briefings to share with friends and family here is the link
Going where angels fear to tread.
Celeste has worked as a contractor for Homeland Security and FEMA. Her training and activations include the infamous day of 911, flood and earthquake operations, mass casualty exercises, and numerous other activities. Celeste is FEMA certified and has completed the Professional Development Emergency Management Series.
Train-the-Trainer
Incident Command
Integrated EM: Preparedness, Response, Recovery, Mitigation
Emergency Plan Design including all Emergency Support Functions
Principles of Emergency Management
Developing Volunteer Resources
Emergency Planning and Development
Leadership and Influence, Decision Making in Crisis
Exercise Design and Evaluation
Public Assistance Applications
Emergency Operations Interface
Public Information Officer
Flood Fight Operations
Domestic Preparedness for Weapons of Mass Destruction
Incident Command (ICS-NIMS)
Multi-Hazards for Schools
Rapid Evaluation of Structures-Earthquakes
Weather Spotter for National Weather Service
Logistics, Operations, Communications
Community Emergency Response Team Leader
Behavior Recognition
Celeste grew up in military & governmental home with her father working for the Naval Warfare Center, and later as Assistant Director for Public Lands and Natural Resources, in both Washington State and California.
Celeste also has training and expertise in small agricultural lobbying, Integrative/Functional Medicine, asymmetrical and symmetrical warfare, and Organic Farming.
I am inviting you to become a Shepherds Heart Patron and Partner.

My passions are:
A life of faith (Emunah)
Real News
Healthy Living
Please consider supporting the products that I make and endorse for a healthy life just for you! Or, for as little as $1 a month, you can support the work that God has called me to do while caring for the widow. Patronage is your opportunity to get to know me better, stay in touch, and show your support.
We live in a day and age that it is critical to be:
Spiritually prepared,
Purity in food and water can
Fair Use Act Disclaimer This site is for educational purposes only. Fair Use Copyright Disclaimer under section 107 of the Copyright Act of 1976, allowance is made for "fair use" for purposes such as criticism, comment, news reporting, teaching, scholarship, education, and research.
Fair use is a use permitted by copyright statute that might otherwise be infringing.
Fair Use Definition Fair use is a doctrine in the United States copyright law that allows limited use of copyrighted material without requiring permission from the rights holders, such as commentary, criticism, news reporting, research, teaching or scholarship. It provides for the legal, non-licensed citation or incorporation of copyrighted material in another author's work under a four-factor balancing test.