The Info War has been discussed for decades.  Now the chickens are coming home to roost.  The first money spent to combat the Novel Corona Virus was to battle the Infodemic.  This ushers in a new strategy that you all need to know.  Our data feeds the Beast System, it animates it, bringing it to life.  As we proceed in the Wasteland of Wickedness formerly known as Planet Earth,  there will be only one voice and that will emanate from the Anti-Christ System.  The Info War is leveling the playing field or getting rid of any and all opposing voices so that the mass of humanity will only hear one voice and that is not the voice of the Good Shepherd.  I propose that these "soon AI changes" are already well underway. 

I am a Key Note speaker at:
2020 GenSix True Legends 2020:  Ancient Cataclysms and Coming Catastrophes Live Streaming Event,
Link to Reserve your spot
 Repost: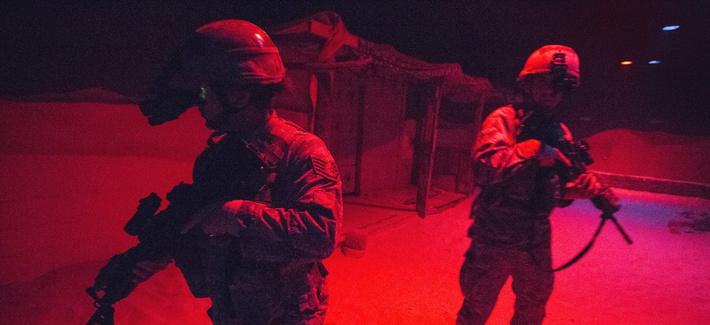 A new SOCOM office is pursuing tools to understand and influence populations, clear rooms with robots, and spot new forms of jamming.
When Gen. Richard D. Clarke was leading special operations forces in Afghanistan years ago, he spent 90 percent of his time thinking about moving and shooting — "the raid, the mission, the kill-capture mission, the destruction of enemy forces," Clarke said last week at the annual SOFIC conference. But when he returned to Afghanistan last year as the commander of U.S. Special Operations Command, he found that U.S. leaders were focusing most of their mental energy on information.
Commanders now spend about 60 percent of their time mulling what the Taliban and the Afghan population are thinking, and how U.S. actions might influence that, Clarke said. "As we look at the info space and in our fight for competition…working in the information space can have the greatest impact in the coming years."
Clarke said AI will play a big role in SOCOM's future information-warfare efforts. This summer, the command will stand up a new office to harness AI for language translation, scanning captured laptops and cellphones, collating and countering Taliban messaging, and more.
"How can I, in real-time, sense what the enemy is stating publicly so we can counter that messaging," he said, "so we can see what they're working in the Twittersphere, or what they're working in the information environment so that we can respond in real-time at the speed of relevance."
That social information will also play a role in tactical operations. Next year, SOCOM will launch a program to give mission commanders better AI tools, according to James Smith, the command's acquisition executive. One part is creating visualization software that can show relevant tactical information and what Smith described as "SOF-peculiar" data, such as population dynamics, social media trends, sentiment analysis and other social points. All this should give commanders a sense of what's happening socially and psychologically in the places that they're operating. 
Smith wants "to give our operations centers a much better feel for the operations that SOF is going to be asked to do, both the [countering violent extremism] operations but also in great power competition." 
That information, along with "everything they currently get from a whole cell of analysts" will also flow to operators as part of a "hyper-enabled environment," said Lisa Sanders, SOCOM's director of science and technology for special operations forces, acquisition, technology and logistics. "All of that could be moved forward to give me a true, immediate situational picture on the edge."
AI may also help special operators to overcome jamming or detect new electromagnetic threats. "Wouldn't it be great if we had some kind of machine learning that just identified anomalies in this space," Smith said. "Maybe it's the new radars we haven't seen before." 
On the tactical side, AI will allow aerial and ground robots to take over more dangerous missions, Smith said. "Think of those small UAVs or ground vehicles and giving them enough AI or ML [machine learning] to be autonomous so that they can clear a building or they can clear a tunnel."
SOCOM is working with the Joint Artificial Intelligence Center on new initiatives, Smith said. But most of the AI that they'll be paying for will be a part of some other tool or software that they're buying already. SOCOM is currently pursuing more than 30 efforts that include some AI and machine learning. 
"We have to stop thinking about this stuff being futuristic. We have to think about it being baked in," he said. "We have to start thinking about it being shovel-ready." 
_______________________________________________________________
REVISED EDITION Electromagnetic Radiation Protection Solutions

PAPERBACK Link
KINDLE Link

PDF Link
The 7 Thunders Revealed
PDF BUNDLE  Link

____________________________________________________________
Celeste has worked as a contractor for Homeland Security and FEMA. Her training and activations include the infamous day of 911, flood and earthquake operations, mass casualty exercises, and numerous other operations. Celeste is FEMA certified and has completed the Professional Development Emergency Management Series.
Train-the-Trainer
Incident Command
Integrated EM: Preparedness, Response, Recovery, Mitigation
Emergency Plan Design including all Emergency Support Functions
Principles of Emergency Management
Developing Volunteer Resources
Emergency Planning and Development
Leadership and Influence, Decision Making in Crisis
Exercise Design and Evaluation
Public Assistance Applications
Emergency Operations Interface
Public Information Officer
Flood Fight Operations
Domestic Preparedness for Weapons of Mass Destruction
Incident Command (ICS-NIMS)
Multi-Hazards for Schools
Rapid Evaluation of Structures-Earthquakes
Weather Spotter for National Weather Service
Logistics, Operations, Communications
Community Emergency Response Team Leader
Behavior Recognition
Celeste grew up in military & governmental home with her father working for the Naval Warfare Center, and later as Assistant Director for Public Lands and Natural Resources, in both Washington State and California.
Celeste also has training and expertise in small agricultural lobbying, Integrative/Functional Medicine, asymmetrical and symmetrical warfare, and Organic Farming..
My educational eBooks
Prep Resources for the Climate Chaos
Climate Revolution:  The Grand Solar Minimum