This article is dedicated to my faithful Patron's who make my writings possible. The best way to support my work is through: Patreon or PayPal or purchase my new book:
Electromagnetic Radiation Protection Solutions

God's Marvelous Protective Provisions
For the Coming Nuclear & Solar Storm Crisis

Welcome to my new Patron Caleb!
This article talks about astronauts encountering this new 'Killer Electron Radiation' but encountered this same radiation in my research for terrestrial radiation concerns.  The galactic piggyback strangelets and below mentioned 'natural particle accelerators' are a compounded concern here on earth because of the threat of turning our planet into a blazing neutron star, not to mention, the collapsing magnetosphere allows electromagnetic cosmic rays of kinds to stream down upon all of us.   Celeste
~~~~~~~~~~~~~~~~~~~~~~~~~~~~~~~~~~~~~~~~~~~~~~~~~
Repost from spaceweather.com
A NEW SOURCE OF SPACE RADIATION: Astronauts are surrounded by danger: hard vacuum, solar flares, cosmic rays. Researchers from UCLA have just added a new item to the list. Earth itself.
"A natural particle accelerator only 40,000 miles above Earth's surface is producing 'killer electrons' moving close to the speed of light," says Terry Liu, a newly-minted PhD who studied the phenomenon as part of his thesis with UCLA Prof. Vassilis Angelopoulos.
This means that astronauts leaving Earth for Mars could be peppered by radiation coming at them from behind–from the direction of their own home planet.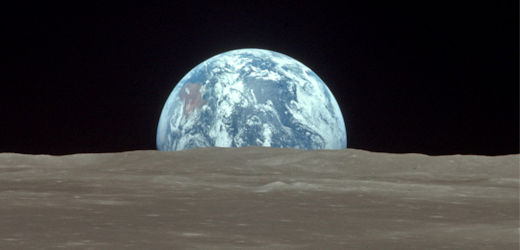 NASA's THEMIS spacecraft ran across the particles in 2008 not far from the place where the solar wind slams into Earth's magnetic field. Researchers have long known that shock waves at that location could accelerate particles to high energies–but not this high. The particles coming out of the Earth-solar wind interface have energies up to 100,000 electron volts, ten times greater than previously expected.
How is this possible? Liu found the answer by combining THEMIS data with computer simulations of the sun-Earth interface. When the solar wind meets Earth, it forms a shock wave around Earth's magnetic field, shaped like the bow waves that form ahead of a boat moving through water. Within this "bow shock" immense stores of energy can be abruptly released akin to the sonic boom of an airplane.
Liu found that some electrons are shocked not just once, but twice or more, undergoing mirror-like reflections within the bow shock that build energy to unexpected levels. Most of the boosted particles shoot back into space away from Earth.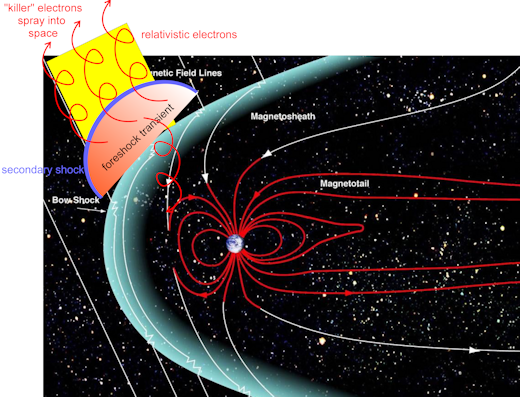 Above: Dr. Terry Liu created this diagram showing the location of the natural particle accelerator and how it sprays radiation into space.
"Similar particles have been detected near Saturn, suggesting that the process is at work there as well," says Liu. "Indeed," adds Angelopoulos, "this type of particle acceleration could be happening throughout the cosmos–from supernovas to solar storms–wherever a supersonic wind hits a barrier."
Meanwhile, back home, Earth-orbiting satellites and departing astronauts have a new source of radiation to contend with. It's right over their shoulder.
Read the original research at Science Advances. ____________________________________
 Author Information

For those who are actively pray for my ministry I humbly want to thank each one of you! 
If you consider this article informative please consider becoming a Patron to support my work.
If you would like to purchase individual briefings to share with friends and family here is the link
Going where angels fear to tread...
Celeste has worked as a contractor for Homeland Security and FEMA. Her training and activation's include the infamous day of 911, flood and earthquake operations, mass casualty exercises, and numerous other operations. Celeste is FEMA certified and has completed the Professional Development Emergency Management Series.
Train-the-Trainer
Incident Command
Integrated EM: Preparedness, Response, Recovery, Mitigation
Emergency Plan Design including all Emergency Support Functions
Principles of Emergency Management
Developing Volunteer Resources
Emergency Planning and Development
Leadership and Influence, Decision Making in Crisis
Exercise Design and Evaluation
Public Assistance Applications
Emergency Operations Interface
Public Information Officer
Flood Fight Operations
Domestic Preparedness for Weapons of Mass Destruction
Incident Command (ICS-NIMS)
Multi-Hazards for Schools
Rapid Evaluation of Structures-Earthquakes
Weather Spotter for National Weather Service
Logistics, Operations, Communications
Community Emergency Response Team Leader
Behavior Recognition
And more….
Celeste grew up in a military & governmental home with her father working for the Naval Warfare Center, and later as Assistant Director for Public Lands and Natural Resources, in both Washington State and California.
Celeste also has training and expertise in small agricultural lobbying, Integrative/Functional Medicine, asymmetrical and symmetrical warfare, and Organic Farming.
I am inviting you to become a Shepherds Heart Patron and Partner.

My passions are:
A life of faith (emunah)
Real News
Healthy Living
Please consider supporting the products that I make and endorse for a healthy life just for you! Or, for as little as $1 a month, you can support the work that God has called me to do while caring for the widow. This is your opportunity to get to know me better, stay in touch, and show your support. More about Celeste
We live in a day and age that it is critical to be:
Spiritually prepared,
Purity in food and water can
Fair Use Act Disclaimer This site is for educational purposes only. Fair Use Copyright Disclaimer under section 107 of the Copyright Act of 1976, allowance is made for "fair use" for purposes such as criticism, comment, news reporting, teaching, scholarship, education and research.
Fair use is a use permitted by copyright statute that might otherwise be infringing.
Fair Use Definition Fair use is a doctrine in United States copyright law that allows limited use of copyrighted material without requiring permission from the rights holders, such as commentary, criticism, news reporting, research, teaching or scholarship. It provides for the legal, non-licensed citation or incorporation of copyrighted material in another author's work under a four-factor balancing test.