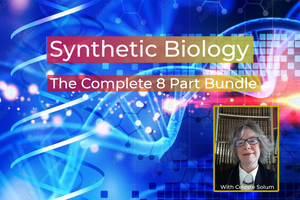 SynBio Complete 8-Module Bundle
Regular price $80.00 $59.00 Sale
Celestial Report presents Synthetic Biology with Celeste Solum.   
8 Modules  

1,200 Slides  

20 Video Hours, 6-months of Specific SynBio Research 

5 –years of technological research 

Decades of background information gleaned from my time with the agencies, working in the medical field, expansive spiritual knowledge and wisdom, and in-depth organic farming experience-in all aspects.   

Follow Up Situation Reports  

SynBio Breaking News, the news you need to know as it is deployed 
This series includes Spiritual Solutions and Practical Solutions.  We must understand the times in which we live.  We are at war for our very existence. We cannot afford to be complacent or apathetic.  Humanity and all biological life hang in the balance. 
Unfortunately, Synthetic Biology will be with us the rest of our lives but there is hope.  This is your opportunity to have peace and be sure-footed in the days to come. 
Blessings, 
 Celeste