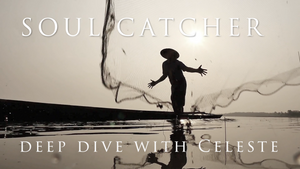 Purchase access for the Soul Catcher PDF notes
Regular price $19.99 Sale
Celeste Solum
Exposes Technology & Witchcraft
From Biblical and Ancient Cultural Resources
BEGINS TUESDAY, AUGUST 9TH
NOON, CT
Registration Required
Register for the webinar module documentation: 

 

Here
Note: Purchase the PDF notes here and then follow the above webinar link to register for the webinars.
Module 1:  Do You Feel Like You are Being Ritually Dismembered?
Module 2:  Trapping and Snaring Your Soul by Witches and Sorcerers
Module 3: The Bagging of Human Souls by Witchcraft
Module 4:  Erasing you from Reality:  The Diabolical Plan to Make You a Disembodied Soul
Module 5: Ghosting: Disembodying as a Form of Persecution and Murder
Module 6:  Can You Be Erased from the Book of Life?
These are the questions that you have long to have answered!  Includes:
Did Dr. Giordano Really Say Technology Can Capture the Soul?
Engineering Soul Catchers
Fibers from Hell
Enticement of the Gullibles
Do Pillow Traps Exist?  What are these techno-pillows?

Your DNA is Being Used as a Witches Beacon
Birds of a Feather!  Souls & Birds
Metamorphosis & the Soul
God's Promise
Sacrificial Murder and Dismemberment is Operational
Mutation, Mutilation, Decapitation is Here
Where are we on the Prophetic Time Clock?
Murder Humans to Save the Planet

Count it a blessing when you are persecuted
and much more.....
See you soon!
Blessings,
Celeste