2-16-2020
What is on my radar?

Highlights:
Threats that the military *sees* that you may not
FEMA wants to drain your pockets with expensive flood insurance
Agencies are Mobilizing to Charge Americans with Cyber Crimes and Terrorism if you do not bow to the gov agenda
Eco-Depopulation
Anti-Vaxxer's Become Refugees
Mammoths experienced deleterious genetic mutations from cosmic rays...the same ones that are harming your right now
You are a rose among thorns-encouragement for your walk of faith
REVISED EDITION Electromagnetic Radiation Protection Solutions

PAPERBACK Link,  KINDLE Link,  PDF Link
The 7-Thunders Revealed
 ~~~
The best way to support my work is through Patreon or PayPal
Thank you to my patrons who make my writings possible.  You are each precious soul to my heart. 
I will be a Key Note speaker at:
Weather and Space Weather

Your space weather for today:  Quiet

3 Day space weather forecast:  Quiet

Troposphere Temperature:  3.60x1010 W Cold  (colder than 2009)

Solar Winds: Calm  341.2 km/sec

Cosmic Rays:  +10.4% Very High, 7-day change: +0.1% UP

Government
FEMA redesigned its Floodplain Maps and added Enforcement actions to extract a new revenue stream to help pay for coming disasters. Think of it as the Obamacare of Insurance designed to drain your pockets.  Some Americans are beginning to feel the big squeeze.
Up to 70,000, Broward County Homeowners May Be Forced to Buy Flood Insurance
If a property owner discovers that their home has been mapped into a flood plain, or that their home has been moved to a higher-risk area with a higher premium, FEMA officials urge them to buy a "Preferred Risk Policy."
~~~
The FBI Makes a Bizarre Claim About Pro-Choice Terrorism
The FBI is expanding its focus on domestic terrorism, and that includes pro-choice violence—even though such violence is so vanishingly rare, it's all but nonexistent. 
In testimony before the House Judiciary Committee on Wednesday, FBI Director Christopher Wray disclosed that the bureau has recently "changed our terminology as part of a broader reorganization of the way in which we categorize our domestic terrorism efforts." It's part of a much-heralded reinvigoration of the bureau's domestic terrorism focus.
Among four broad categories of domestic terrorism that the FBI confronts, Wray said, is "abortion violent extremism." 
But Wray wasn't only talking about the pro-life extremism that murders abortion providers in their churches, he hastened to add, but "people on either side of that issue who commit violence on behalf of different views on that topic."
~~~
The reason is that the agency crafts the global warming scenario as the world deepens into the Grans Dolar Minimum brings a great chill to our planet.  Read more
Signs of Eco-Depopulation
This is also happening in the US, Washington State comes to mind.  I actually had this service offered when David was killed.
Burying the Dead in Taipei's Public Parks
The eco-friendly approach reflects Taiwan's shifting funerary practices.
Twice a year, the Chen brothers Boris and Po-An hop onto the latter's motorcycle and make their way up the mountainous district of Wenshan in Taipei. It's a scenic journey that will take them past the leafy grounds of a solar farm that sits on a restored former landfill called the Fudekeng Environmental Restoration Park. The Taiwanese government implemented this urban rehabilitation project in 2003 to protect vestigial green space in the capital, hoping to repair damage caused by unfettered urban expansion through the 1980s.  Read more
Military
The US Military Is Not Ready for a Constitutional Crisis
In nine years on duty, I received no training in how to uphold my oath to defend the Constitution. Today's troops need   Read More
~~~
Warning!  Inbound threats that the military *sees* that you do not
Food Supply
Food Supply to Collapse after Outbreak? Billionaires Predict "Global Problems"
A 2015 Soros-funded think tank predicted a 2020 breakdown of the global food supply following an outbreak -- just as Bill Gates' 2019 "event 201" simulated a global pandemic. Why are multiple billionaires been speaking to outbreaks and food insecurity in 2020?
Because Agenda 21/2030 isn't just a name: it's a war on all of us, and it has gone HOT.  Ice Age Farmer
~~~
Join me in an 18-part series Building Blocks of Global Governance that begins today, Web of Global Governance Intrigue Swirling Around Protein Disruption. Reshaping the Future of Global Public Goods includes the War on Protein.
~~~
While exploring the world's seed vaults, consider your own personal seed vault with seeds for the plants you love!  All you need are your favorite seeds, an organizer system, and a cool dark area. 
The Unexpected Elegance of Apocalyptic Seed Vaults, In Photos
Heavenlies
The early solar system was a chaotic place, with evidence indicating that Mars was likely struck by planetesimals, small protoplanets up to 1,200 miles in diameter, early in
Read More
Earth Changes
The bitter end.  Woolly mammoth genetics study reveals their miserable, lonely end.  This is just brutal.
Researchers analyzed the genome of 4,000-year-old mammoth remains that were found on Wrangel Island, a desolate spit of land off the coast of Siberia in the Arctic ocean. These mammoths may have been the last of their kind — and their genomes reveal that it may have been their isolation that eventually killed them.
In their final years on Earth, the mammoths likely carried a series of deleterious (harmful) genetic mutations that left them with myriad problems — all of which likely hastened their extinction.
The mammoths' genes reveal problems with their neurological development, fertility issues among males, and an impaired ability to smell.  Read more
Practical Tips
How to protect yourself from electrosmog
Technology
Digital Authoritarianism: Finding Our Way Out of the Darkness
From Chinese government surveillance in Hong Kong and Xinjiang to Russia's sovereign internet law and concerns about foreign operatives hacking the 2020 elections, digital technologies are changing global politics and the United States is not ready to compete, Naazeen Barma, Brent Durbin, and Andrea Kendall-Taylor write. The United States and like-minded countries must thus develop a new strategic framework to combat the rise of high-tech illiberalism, but "as a first step, U.S. government officials need to understand how authoritarian regimes are using these tools to control their populations and disrupt democratic societies around the world.  Read more
History
18th-Century Log Cabin Discovered Beneath Condemned Pennsylvania Bar
Washingtonville log cabin
The cabin is believed to date to the 1700s. (Screenshot via WNEP)
A condemned bar has sat awaiting demolition on the corner of Water and Front Streets in the small borough of Washingtonville, Pennsylvania, for more than three years. Recently, contractors finally began to tear the building down, only to discover a historic surprise hidden beneath the bar's exterior: a log cabin, believed to be 200 years old, that is "very much salvageable," as local council president Frank Dombroski tells WNEP's Nikki Krize.  Read more
~~~
Ancient "ghost" DNA identified in living humans
It's very hard to extract ancient DNA from fossils found in Africa because heat and humidity can erode evidence of a genetic code over time. Because of this, scientists often have to look for signs of the ancient humans who once lived in Africa in the genes of modern people. And in a new study, researchers reveal that the genomes of living West Africans may hold clues to a mysterious hominin — a "ghost" human species that currently can't be identified.  Read more
Ancient Civilizations
Unique Bone Figurine Discovered in One of World`s Oldest Cities
Anthropomorphic figurine discovered by a Polish researcher, photo by J. Quinlan
Polish researcher discovered a human-like figurine is one of the oldest cities in the world: Çatalhöyük in Turkey. This is the first such object made of bone known from this place. The find is about 8,000 thousand years old.
The discovery was made in one of the largest proto-city centers of the first farmers and one of the most famous archaeological sites of the world: Çatalhöyük, located in the southern part of the Anatolian Plateau in central Turkey. Çatalhöyük was inhabited continuously for over a thousand years between 7100 and 6000 BC, i.e. in the Neolithic era. The figurine was found in 2016. The conclusions of its expert analyses are presented in Archaeological and Anthropological Sciences.
~~~
Rare 4,500-year-old baby bottles discovered in Bingöl, eastern Turkey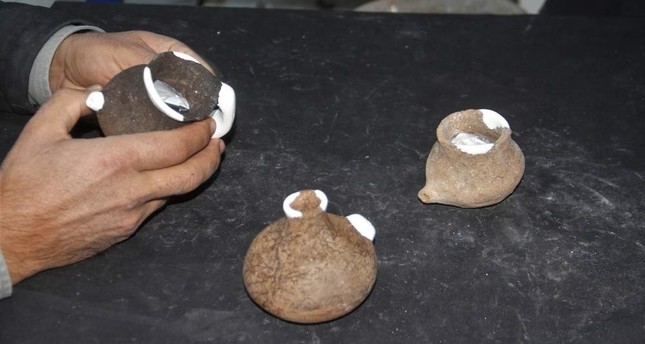 Archaeologists have discovered ancient baby bottles dating back to 2500 B.C. during excavations at Norik Mound in Turkey's eastern Bingöl province.

The discovery was made at the early Bronze Age settlement in Murat village in Bingöl's Solhan district, Ihlas News Agency (IHA) reported Sunday. Archaeologists found three artifacts with spouts identified as baby bottles made out of clay. The bottles had single handles and could hold approximately 50 to 150 milligrams of liquid, the report said.  Read more
Biblical
God and a Glock: Texas Churchgoers Are Training to Fight Off Attackers Wielding Guns

A cottage industry is growing in Texas of security firms that train churchgoers with police-like tactics.
~~~
Ancient Pergamon-City of science...and satan?
Pergamon's strategic location along both land and sea trading routes contributed to its prosperity. Pilgrims from all over the Mediterranean region would flock to the city to engage in commerce or to visit the famous Ascelpion, a center of medical treatments.
Perched atop a windswept mountain along the Turkish coastline and gazing proudly—almost defiantly—over the azure Aegean Sea sit the ruins of ancient Pergamon. Although the majority of its superb intact monuments now sit in Berlin's Pergamon Museum, enough remains of the acropolis for the visitor to sense the former greatness of the city that once rivaled Alexandria, Ephesus, and Antioch in culture and commerce, and whose scientific advancements in the field of medicine resonate through the corridors of today's medical treatment facilities. Juxtaposed sharply against this image of enlightened learning is that of "Satan's Throne," as described by the prophet John of Patmos (Revelation 2:12–13), which some scholars interpret as referring to the Great Altar of Pergamon, one of the most magnificent surviving structures from the Greco-Roman world. Read more
Medical
US Emergency Legal Responses to Novel Coronavirus - Balancing Public Health and Civil Liberties (JAMA)
With increasing numbers of cases of coronavirus disease 2019 (COVID-19) globally and in the United States, Health and Human Services (HHS) Secretary Alex Azar declared a national public health emergency on January 31.1 The emergency declaration of the HHS authorizes additional resources, enhanced federal powers, inter-jurisdictional coordination, and waivers of specific regulations. Read more

~~~
Part of the, "You can't deal with crisis or disaster roll out."  I would not use it. 
Snapchat will now offer mental health tools in the app
Snapchat has released a beta version of a search tool called "Here For You" that will connect users to mental health resources.
Anti-vaxxer parents who are fleeing California and Washington for Idaho to take advantage of lax vaccination laws are calling themselves 'refugees' because schools in the states would not allow their children 'medical freedom'
People who have moved to Idaho to take advantage of lax vaccination laws have been referring to themselves as 'refugees'

In Department of Health and Welfare hearings August 2019, parents urged Idaho not to tighten rules on what could exempt children from vaccinations in schools 

It was after California and Washington no longer accepted personal beliefs as a reason for exemption. Parents must offer proof of a religious or medical reason 

One mother said at an Idaho hearing: 'I'm a mother. And I'm also a California refugee. I came here in search of medical freedom' 

One parent said they're a 'California refugee' and another said they 'personally know a handful of these refugees very well' from social media and social circles 
Read more
Last Word
This is a word of encouragement from Shir HaShirim, Songs of Songs.  You, my friends, are a rose among thorns.  Discover how a simple rose describes our walk of faith. 
God Bless you from the trenches.  Be safe everyone.
Celeste
____________________________________________________________
Celeste has worked as a contractor for Homeland Security and FEMA. Her training and activations include the infamous day of 911, flood and earthquake operations, mass casualty exercises, and numerous other operations. Celeste is FEMA certified and has completed the Professional Development Emergency Management Series.
Train-the-Trainer
Incident Command
Integrated EM: Preparedness, Response, Recovery, Mitigation
Emergency Plan Design including all Emergency Support Functions
Principles of Emergency Management
Developing Volunteer Resources
Emergency Planning and Development
Leadership and Influence, Decision Making in Crisis
Exercise Design and Evaluation
Public Assistance Applications
Emergency Operations Interface
Public Information Officer
Flood Fight Operations
Domestic Preparedness for Weapons of Mass Destruction
Incident Command (ICS-NIMS)
Multi-Hazards for Schools
Rapid Evaluation of Structures-Earthquakes
Weather Spotter for National Weather Service
Logistics, Operations, Communications
Community Emergency Response Team Leader
Behavior Recognition
Celeste grew up in military & governmental home with her father working for the Naval Warfare Center, and later as Assistant Director for Public Lands and Natural Resources, in both Washington State and California.
Celeste also has training and expertise in small agricultural lobbying, Integrative/Functional Medicine, asymmetrical and symmetrical warfare, and Organic Farming..
My educational eBooks
Prep Resources for the Climate Chaos
Climate Revolution:  The Grand Solar Minimum
Trusted Source CBD Oil