"Strangest Aurora Ever"

Lying Signs and Wonders

This article is dedicated to my faithful Patrons who make my writings possible.  A big welcome to Frank, Penny, and Meg!
NASA has an AZURE project called Sounding Rockets  that dumps some pretty nasty chemicals into the vertical circulation within the auroral zone which is the key element in the re-distribution of energy, momentum, and chemical constituents in response to forcing.  The name of the sounding rocket mission is AZURE--short for Auroral Zone Upwelling Rocket Experiment. The result is a peculiar and unnatural phenomena light show in the sky.
Last night, April 5th in Norway at Andøya Space Center launched two sounding rockets into a minor geomagnetic storm. The results were an alien sky after the rockets dumped chemical powders into the storm.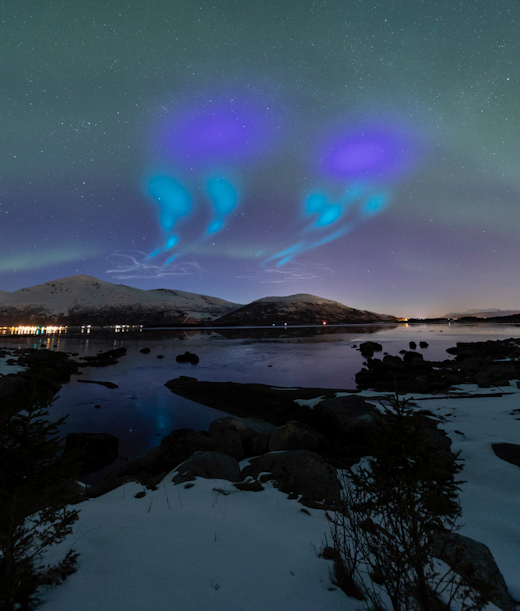 Photo credit: Kim Hartviksen of Aurora Addicts
"Residents for hundreds of miles were taken by surprise by these strange lights, which prompted calls to the police and 'The aliens are coming!' hysteria!" says Chris Nation who runs the Aurora Addicts guiding service.
Researchers ignited a stream of solar wind buffeting Earth's magnetic field. "It looked like an invasion of UFOs," says Chad Blakley.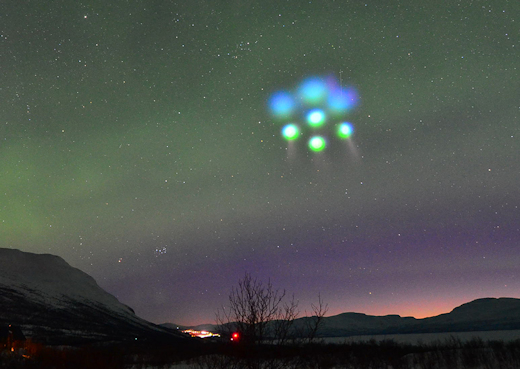 "Soon the glowing blobs evolved into more complicated structures--like two giant squid dancing in the northern sky with an impressive aurora display as its backdrop," describes Blakley. "These images are by far the most exciting I've ever seen it record."
Two rockets released a payload of  chemical tracers: trimethyl aluminum (TMA) and a barium/strontium mixture. These mixtures create colorful clouds that allow researchers to visually track the flow of neutral and charged particles, respectively. According to NASA, supposedly the chemical pose no danger to humans.  Inquiring minds are not satisfied with NASA's positive spin so if you want the back story of this program and the side-effects of the chemicals they are dumping into the sky check out HODOR:  A Time to Dye, when I brought this program to your attention.
As we are beginning to see, with a handful of chemicals, one can make Lying Signs and Wonders, fire from the sky, pollute the atmosphere, bring untold global human side-effects, and fabricate an alien invasion- all rolled into one event.
___________________________________________________________
Author Information

Coming soon, I will be returning to radio.  My new show will be will Celestial Diamond Radio bringing you current news events with a biblical perspective.
For those who are actively pray for my ministry I humbly want to thank each one of you! 
If you consider this article informative please consider becoming a Patron to support my work.
Going where angels fear to tread...
Celeste has worked as a contractor for Homeland Security and FEMA. Her training and activation's include the infamous day of 911, flood and earthquake operations, mass casualty exercises, and numerous other operations. Celeste is FEMA certified and has completed the Professional Development Emergency Management Series.
Train-the-Trainer
Incident Command
Integrated EM: Preparedness, Response, Recovery, Mitigation
Emergency Plan Design including all Emergency Support Functions
Principles of Emergency Management
Developing Volunteer Resources
Emergency Planning and Development
Leadership and Influence, Decision Making in Crisis
Exercise Design and Evaluation
Public Assistance Applications
Emergency Operations Interface
Public Information Officer
Flood Fight Operations
Domestic Preparedness for Weapons of Mass Destruction
Incident Command (ICS-NIMS)
Multi-Hazards for Schools
Rapid Evaluation of Structures-Earthquakes
Weather Spotter for National Weather Service
Logistics, Operations, Communications
Community Emergency Response Team Leader
Behavior Recognition
And more….
Celeste grew up in a military & governmental home with her father working for the Naval Warfare Center, and later as Assistant Director for Public Lands and Natural Resources, in both Washington State and California.
Celeste also has training and expertise in small agricultural lobbying, Integrative/Functional Medicine, asymmetrical and symmetrical warfare, and Organic Farming.
I am inviting you to become a Shepherds Heart Patron and Partner.

My passions are:
A life of faith (emunah)
Real News
Healthy Living
Please consider supporting the products that I make and endorse for a healthy life just for you! Or, for as little as $1 a month, you can support the work that God has called me to do while caring for the widow. This is your opportunity to get to know me better, stay in touch, and show your support. More about Celeste
We live in a day and age that it is critical to be:
Spiritually prepared,
Purity in food and water can
Secure protection against EMF and RF
Deters radiation
Supports Christian families
I use and endorse Helix Life products because they oxygenate the body, deters radiation, creates a healthy oasis bubble around your body. No outside power necessary, easily cleanable.
The Pendant is for personal protection $229-
The Tower will protect your home and structure and is also portable. $1895-
The Array will protect your home, land, or farm $10,200
HelixLife.com offers 0 % financing for 6 months. Telephone and Chat support for questions. They also have scientific studies and resources on why you need EMF protection. You can view testimonials from satisfied customers.
Special: Try the pendant for 10 days for $99! You can purchase the Pendant or return it, hassle free!
Fair Use Act Disclaimer This site is for educational purposes only. Fair Use Copyright Disclaimer under section 107 of the Copyright Act of 1976, allowance is made for "fair use" for purposes such as criticism, comment, news reporting, teaching, scholarship, education and research.
Fair use is a use permitted by copyright statute that might otherwise be infringing.
Fair Use Definition Fair use is a doctrine in United States copyright law that allows limited use of copyrighted material without requiring permission from the rights holders, such as commentary, criticism, news reporting, research, teaching or scholarship. It provides for the legal, non-licensed citation or incorporation of copyrighted material in another author's work under a four-factor balancing test.
Source:  spaceweather.com