Your skin is being exploited and weaponized against you.
You skin is a tool in Satan's toolkit to get you to curse God.
Your skin is an electromagnetic array antenna for communication and can be harvested as a power supply
Signs of the End
"You who hate good and love evil, Who tear off their skin from them And their flesh from their bones, Who eat the flesh of my people, Strip off their skin from them, Break their bones And chop them up as for the pot And as meat in a kettle."  Micah 3:2-3
Stop reading this article immediately and take a look at your skin.  You skin is amazing!  God designed your skin, which is the largest organ of your body.  Your multi-layered skin provides you a container for the Divine Image and your internal Spiritual uniqueness, a barrier from the outside world, transmitter and receiver, a sensory device, a tool that Satan can use to get you to curse God, camouflage, an indication of our spiritual condition (and physical), communication system and power supply, and an interface system with your environment.  The Old Testament forbids tattoos and markings, considered in the Bible worship of the dead, and in Revelation a mark accepted in two locations of the body will spell eternal damnation.  As we shall explore in this article, your skin is being exploited and weaponized against you.
Your skin's design as it turns out is:
With sweat ducts in human skin are helically shaped tubes, filled with a conductive aqueous solution. A computer simulation study of these structures in millimeter and sub-millimeter wave bands show that the human skin functions as an array of electromagnetic low-Q helical antennas. Experimental evidence is presented that the spectral response in the sub-Terahertz region is governed by the level of activity of the perspiration system. It is also correlated to physiological stress as manifested by the pulse rate and the systolic blood pressure.
Human Skin as Arrays of Helical Antennas in the Millimeter and Submillimeter Wave Range
In fact, your skin is a highly conductive, fast proton transportation system and network over its entire ductile surface. Your skin is so sensitive that your physiological and psychological condition can be ascertained by your perspiration system, much like a thermometer measures your body temperature.
Moreover, it is known that the human skin contains approximately 2 to 5-106 eccrine sweat glands distributed over most of the body, with higher density in several areas such as on the palms of the hand, the forehead, and on the soles of the feet. As each gland is connected to the skin surface by a helical sweat duct, the skin organ in its entirety can be regarded as an array of helical antennas that operate in the EHF range.

Human Skin as Arrays of Helical Antennas in the Millimeter and Submillimeter Wave Range
Image:  3D optical coherence tomography image (reproduced
with permission from ISIS GmbH) of a single human eccrine
sweat gland embedded in the human skin and a schematic
presentation of the duct as a helical antenna [20] embedded in
the skin, where the dermis-epidermis interface acts as a dielectric
reflector. The respective permittivities of the skin layers are
marked.
To measure the reflectivity of the sweat glands, tests were performed after a subject was rested, then exercised, and measured from the palm of the hand.  After the initial testing, subsequent tests included a:
Snake venom-like synthetic tripeptide acting as an antagonist
of the postsynaptic muscular nicotinic acetylcholine
membrane's receptor (mnAChR)  Human Skin as Arrays of Helical Antennas in the Millimeter and Submillimeter Wave Range

This is critical because for the last 20 years I have been seeing an increase in various medical tests using snake venom.  Nicotinic acetylcholine affects the central nervous system and is concentrated in herbicides used on crops today.  In the year 2000, I wanted to get a test to see how much of these herbicides were in my body.  I could find no lab that would do the test except one and the report would be sent directly to Homeland Security (DHS), not my physician.  This may bring clearer illumination of the Bible passage:
Behold, I give unto you power to tread on serpents and scorpions, and over all the power of the enemy: and nothing shall by any means hurt you.  Luke 10:19
Your sweat glands respond to various external and internal environmental factors, such as pH, poisons such as snake venom, chemicals, toxins, frequencies, and more.
Spray-On Antennas
In simple terms, your skin acts both as a thermo-regulator and naturally as an antenna. 
Researchers at Drexel University are going to exploit the natural qualities of your skin using their invisible and novel spray antenna solution of  titanium or molybdenum, bonded with carbides or nitrides called MXene, on the same level as the antennas in today's mobile devices and routers.   As you see in the video above MXene is mixed into water and then applied to anything and everything making it an antenna for various sensors or as in the case of skin, increasing its natural antenna qualities. 
The spray-on antenna significantly reduces the size of the antenna structure from 3,000 nm to 100nm  and has a higher conductivity than carbon nanotubes.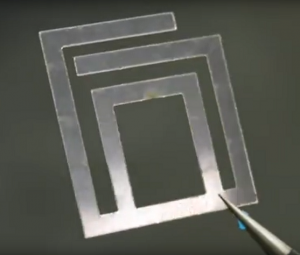 Spray on antennas can provide a soldier on the battlefield instant communication ability but it can also be deployed in an aerosol and sprayed into the atmosphere turning anything that it comes in contact with into an antenna.  Those of us who have been watching Geo-Engineering since the 1990's have been concerned about this aspect of that program.  It has now come to pass. 
 Creeping Skin-tenna's
And then there are the creeping skin-tennas that work with your embedded or wearable devices enveloping you with wireless signals.
Now, Scanlon and Conway have designed a version that that channels much more of its signal sideways by taking advantage of the "creeping wave" effect that allows waves to travel along a surface. The same effect is responsible for both a person's ears hearing a sound only directed at one side of their head.

Signals are channeled out sideways along the skin by this reflection and the conducting plate. That makes the antenna more efficient, which could double the battery life of body-worn gadgets, Scanlon says. New Scientist
5G Skin Danger
National Center for Biotechnology Information (NCBI) has been conducting environmental research on the impact that 5G will have on the skin.
Starting from July 2016 the US Federal Communications Commission (FCC) has adopted new rules for wireless broadband operations above 24 GHz (5 G). This trend of exploitation is predicted to expand to higher frequencies in the sub-THz region. One must consider the implications of human immersion in the electromagnetic noise, caused by devices working at the very same frequencies as those to which the sweat duct (as a helical antenna) is most attuned. We are raising a warning flag against the unrestricted use of sub-THz technologies for communication, before the possible consequences for public health are explored.
Other Skin Testings
Your skin is under assault as one of the last frontiers and barriers keeping us protected from being engulfed by the global beast system.
Other experiments are being conducted using:
Microstrips for hard and soft skins using 3D print. Design, fabrication, and testing of a novel active skin antenna which consists of an encapsulation shell, antenna skin, and RF and beam control circuits. The antenna skin which consists of the facesheet, honeycomb, array framework, and microstrip antenna elements was designed by using Bayesian optimization, in order to improve the design efficiency. An active skin antenna prototype with 32 microstrip antenna elements was fabricated by using a hybrid manufacturing method. 
Gels  In this study, we prepared two different human skin-mimicking gels and designed a small size dual band implantable micro-strip antenna for medical applications covering ISM and MICS bands in the light of recent studies.  We developed gels to mimic the electrical properties of real human skin tissue and used these gels for in-vitro testing of the proposed dual-band implantable antenna.  The recipe for the skin mimicking gels is composed of carbomer, sucrose, NaCl, and deionized water at several percentages.  We note that numerical analysis of the proposed antenna carried our using CST Microwave Studio software.
ARIALS  Antenna designs for RFID tags which can be tattooed directly onto the skin's surface. The antennas presented will be functional wearable technology with aesthetic principles which will contribute to the emerging area of Beauty Technology. These tags are suitable for the monitoring of people for a wide variety of applications. The antennas with an equivalent impedance of an RFID chip are simulated on a layered human body cubic model. Results indicated that the slot determined the operational frequency (915MHz) while the shape had only a secondary effect on the performance of the antenna
Human Body Antenna
I really appreciate the in-depth work of Behailu Mulatu Kibret in his work, The Human Body Antenna: Characteristics and its Application, although it it's too lengthy to encompass his detailed work on this topic.  Let me summarize his work in his own words:
The characteristics of the human body as an antenna were investigated and the results were applied to Human Body Communication and radio-frequency radiation dosimetry. Human Body Communication (HBC) is a wireless communication technique, applied to Body Area Networks, that uses the human body as part of the communication channel to connect wearable electronic devices. Radio-frequency (RF) radiation dosimetry is the science of quantifying the amount of absorbed RF radiation power inside the human body when it is exposed to RF electromagnetic fields. In addition to applying the human body antenna characteristics in HBC and RF dosimetry to analyze and interpret measured and computed results, the derived knowledge was studied with the objective of applying the human body antenna in wireless implant communication.

The application of the human body for wireless implant communication was studied theoretically; therefore, future research should support the theoretical results with experiments.

The analysis of the human body antenna characteristics in this thesis was based on the implicit assumption that the human body is not moving.  The movement of the body changes the antenna characteristics, such as, the antenna pattern and directivity, which have effects on the gain of the human body antenna.

The human body antenna features can also be applied in areas, such as, the implementation of the human body antenna for RF energy harvesting in the FM band. Studies have shown that the ambient RF power in the FM band is mostly higher than other broadcast bands; additionally, it is continually present unlike other intermittent broadcast channels.

The future researches can also focus on the prospective application of the human body antenna to connect wearable electronic devices to nearby monitoring devices. This application can be deployed in a network of HBC devices without the need to include a power-hungry central hub operating at a higher frequency to communicate with the nearby external monitoring devices..

Future work will investigate models of WBA-SAR with a grounded human body.
Beauty is more than Skin Deep
The ability to give almost any object (human, animal, plant, rock, or robot) an antenna affords them to have a communication-sensitive skin. This promises to open many possibilities for entities to better interconnect with their assets - and make them more responsive to manufacturing needs to the global beast system.
__________________________________________________
Author Information

If you consider this article informative please consider becoming a Patron to support my work.  
Beginning October 15th I will be posting special PATRON ONLY articles and also have unique gifts for my Patrons.  Become a Patron at:  https://www.patreon.com/shepherdsheartfarm
Going where angels fear to tread...
Celeste has worked as a contractor for Homeland Security and FEMA.  Her training and activation's include the infamous day of 911, flood and earthquake operations, mass casualty exercises, and numerous other operations.  Celeste is FEMA certified and has completed the Professional Development Emergency Management Series.
Train-the-Trainer
Incident Command
Integrated EM:  Preparedness, Response, Recovery, Mitigation
Emergency Plan Design including all Emergency Support Functions
Principles of Emergency Management
Developing Volunteer Resources
Emergency Planning and Development
Leadership and Influence, Decision Making in Crisis
Exercise Design and Evaluation
Public Assistance Applications
Emergency Operations Interface
Public Information Officer
Flood Fight Operations
Domestic Preparedness for Weapons of Mass Destruction
Incident Command (ICS-NIMS)
Multi-Hazards for Schools
Rapid Evaluation of Structures-Earthquakes
Weather Spotter for National Weather Service
Logistics, Operations, Communications
Community Emergency Response Team Leader
Behavior Recognition
And more….
Celeste grew up in a military & governmental home with her father working for the Naval Warfare Center, and later as Assistant Director for Public Lands and Natural Resources, in both Washington State and California. 
Celeste also has training and expertise in small agricultural lobbying, Integrative/Functional Medicine, asymmetrical and symmetrical warfare, and Organic Farming.
I am inviting you to become a Shepherds Heart Patron and Partner.

 My passions are:
A life of faith (emunah)
Real News
Healthy Living
Please consider supporting the products that I make and endorse for a healthy life just for you!  Or, for as little as $1 a month, you can support the work that God has called me to do while caring for the widow.  This is your opportunity to get to know me better, stay in touch, and show your support.  More about Celeste
We live in a day and age that it is critical to be:
Spiritually prepared,
Purity in food and water can
Secure protection against EMF and RF
Deters radiation
Supports Christian families
I use and endorse Helix Life products because they oxygenate the body, deters radiation, creates a healthy oasis bubble around your body.  No outside power necessary, easily cleanable.
The Pendant is for personal protection $229-
The Tower will protect your home and structure and is also portable. $1895-
The Array will protect your home, land, or farm $10,200
Steve Quayle Bundles for deep savings and some of my handcrafted products.
Montana Plus-Pendant, Tower and some of my soap products $1849
Frazzled Mom Bundle-Pendant, Tower, Soaps and Cream  $1589
Montana Bundle-Pendant and soap $258
HelixLife.com offers 0 % financing for 6 months.  Telephone and Chat support for questions.  They also have scientific studies and resources on why you need EMF protection.  You can view testimonials from satisfied customers.
Special:  Try the pendant for 10 days for $99!  You can purchase the Pendant or return it, hassle free! 
 Sources:
"Researchers Create "Spray On" 2-D Antennas," by Michael Koziol, IEEE Spectrum, 21 September 2018.