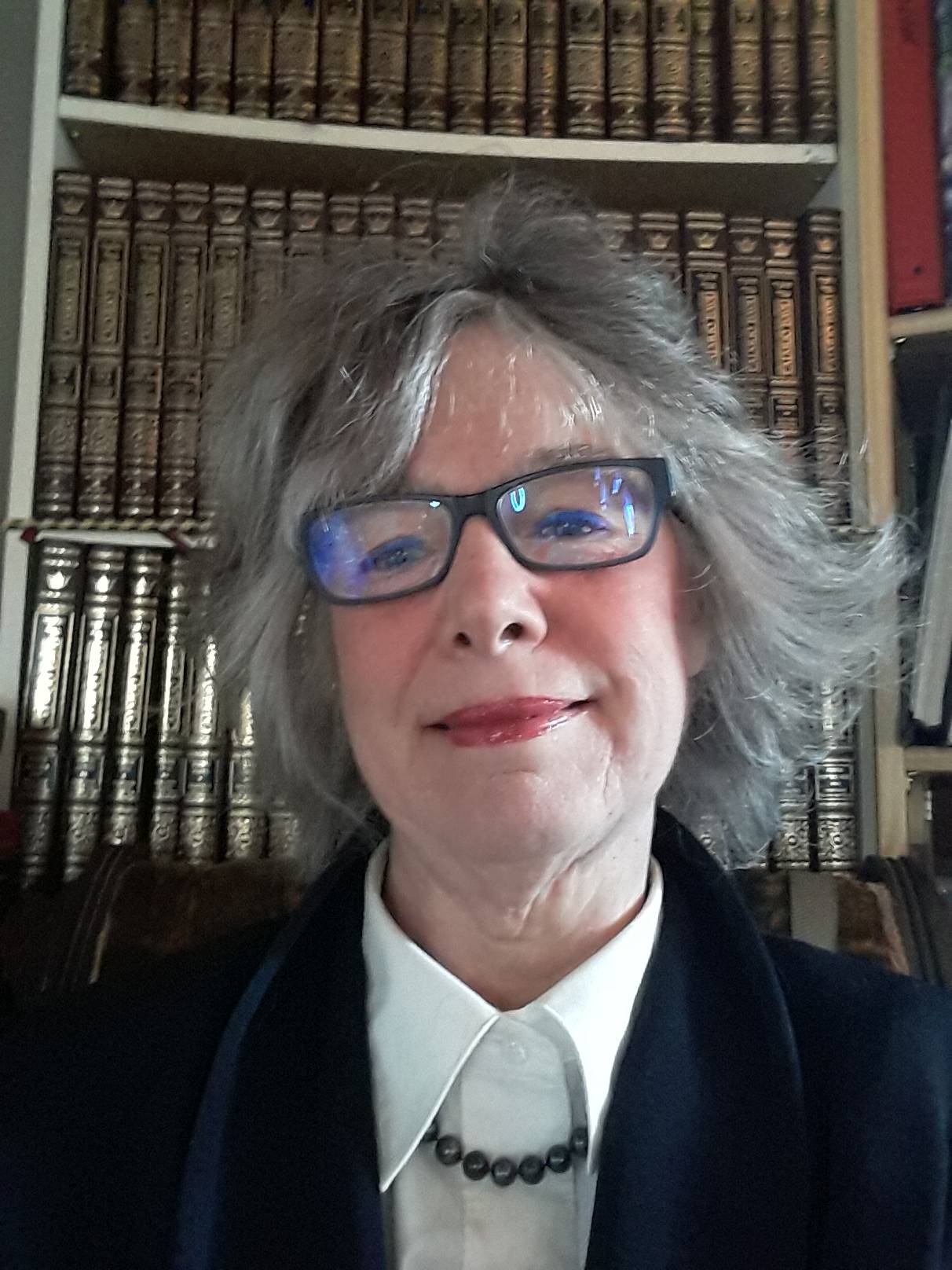 Facing us is a new existential threat to all biological life.
It is called Synthetic Biology.
Celeste's Exhaustively Researched Presentation
Includes over 1200+ pages of Notes and References
SynBio is the new horizon, repurposing living systems and organisms. With SynBio, scientists have accomplished designing, controlling, and programing cellular and even molecular behavior.
• What SynBio is
• What it does
• Why is it being done
• How is it being done• Details about the new SynBio language
• Presented from a biblical, conservative foundation
• Learn the practical steps you can take to preserve your humanity and about the remedy to neutralize this wicked beast
• Research gathered from scientific peer-review journals •
• Presented from a knowledge of government and military plans and strategic; war strategies including symmetrical and asymmetrical warfare.
• Each concept presented to you in a way to give you hope and inspiration to stand.
• There will be a Q&A Session for each module
SynBio Webinar Presentation
Get the entire 8-part series
Each of the eight modules contain the video,
and an easy to understand compendium of information, notes and references.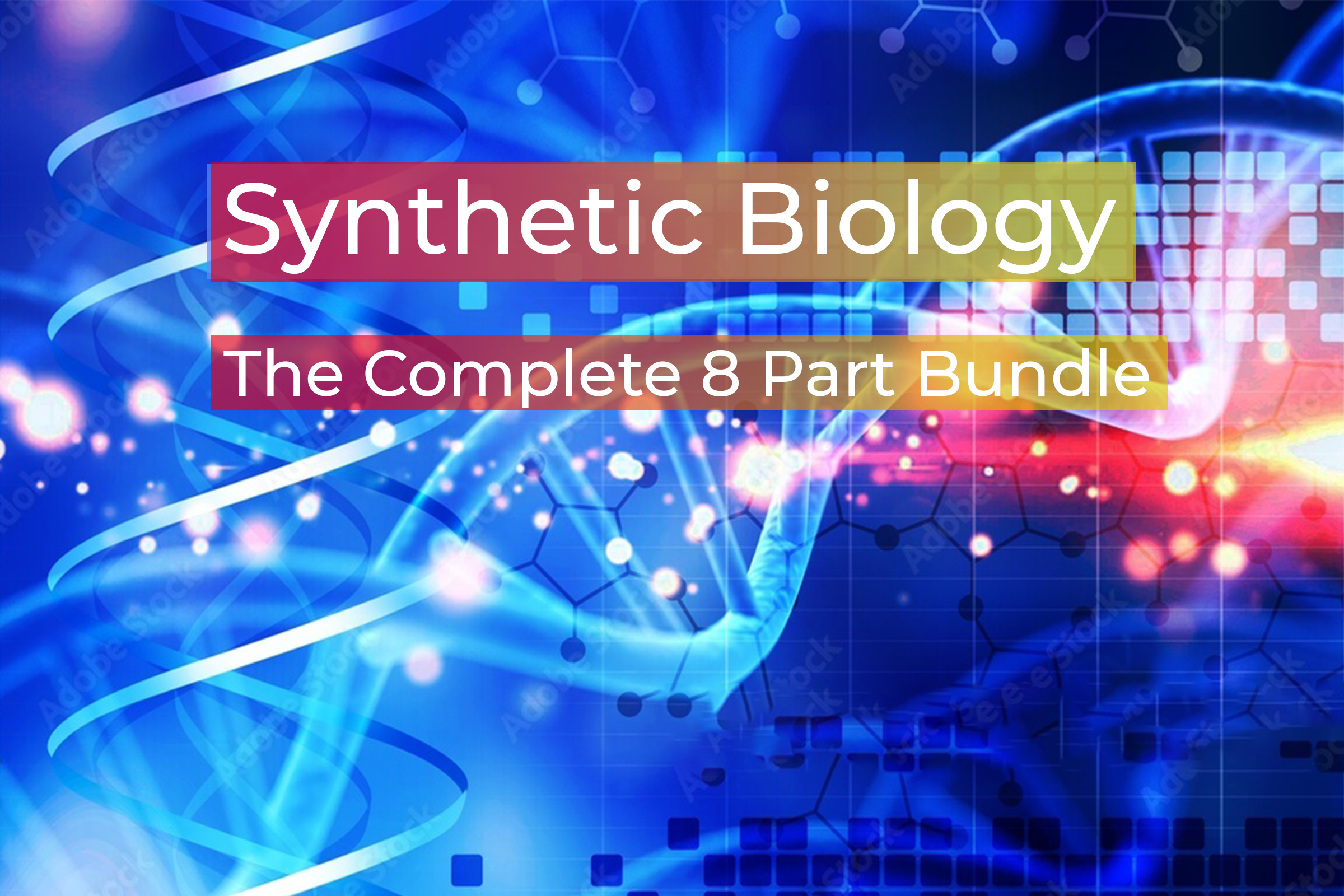 The Complete 8 Part Bundle:
• 8 Modules,
• 1,200 Slides,
• 20 Video Hours,
• 6-months of Specific SynBio Research,
• 5 –years of technological research,
  and decades of background information.
Save $21 by getting the bundle for only $80 $59
Individual Module Summaries
Module 1:   The Dangers of Merging Man into a Biohybrid Machine
 2 hours, 50 minutes video -  
251 slides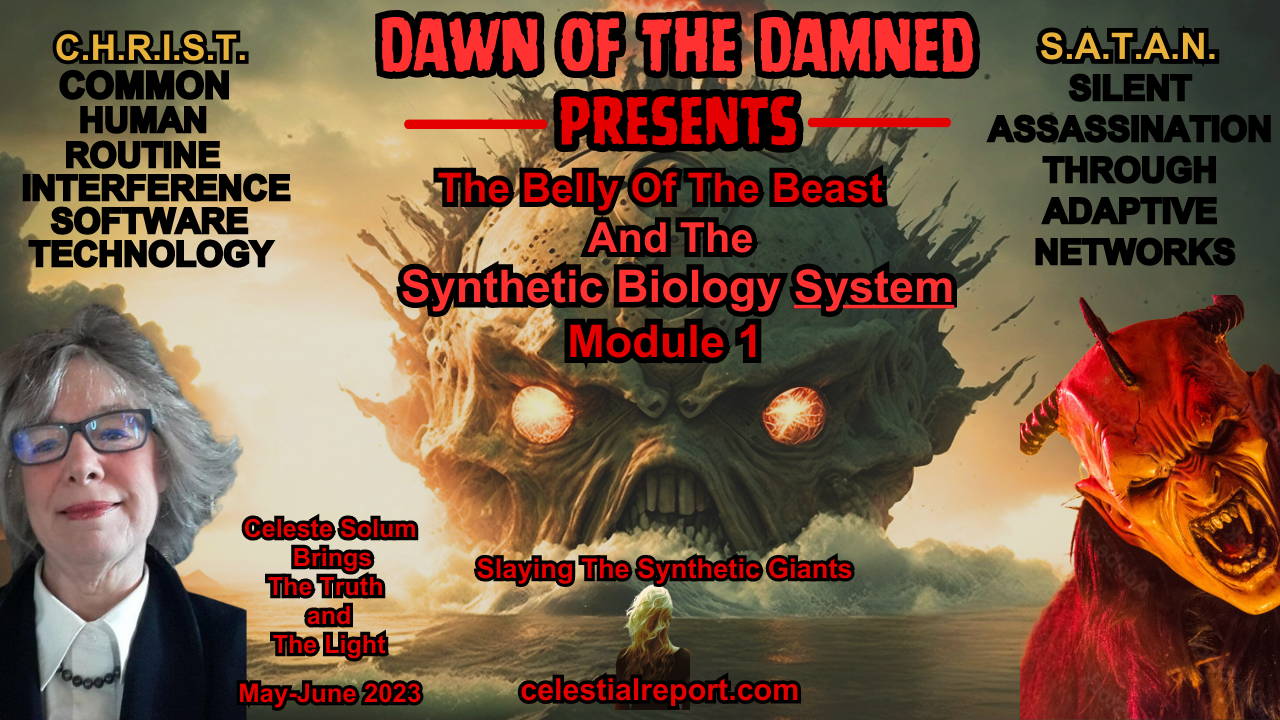 Join Celeste Solum as we enter the End Day War against all biological life. This is the ultimate battle of God verses Evil. Synthetic Biology is a SYSTEM that is an existential threat invading your body. Synthetic Biology is a stealth invader that is in the air you breathe, the water you drink, and all commercially grown foods. It is in or on everything you touch. It has weaponized your body against you and all your senses.
Module 2:    The New Language of Bondage
3 hours, 22 minutes video
204 slides   
In Module 2 we will dive into synthetic biology looking at DNA Reading, DNA Writing, DNA Editing using CRISPR/CAS9 technology. We will explore the Synthetic Biology commercial Pipeline and what it means to you. You will learn more about the agenda surrounding SynBio.  
In this Module we go down the rabbit hole into the world of engineering plants and animals into biohybrids and then into synthetic entities. These are plants and animals that look like the original design but are engineered to be a complete synthetic system. Even though these look like what you are familiar with they are actually and integrated weapons system that will first cause morbidity (illness) and then through the transformation process depopulate (mortality) you. Why? Because mankind, animals and plants were not created to be biohybrids or a synthetic system.
In this Module, the State of the Food Supply from the HDIAC.
The Homeland Defense & Security Information Analysis Center (HDIAC) is a component of the U.S. Department of Defense's Information Analysis Center (IAC) enterprise.
In Module 5, Becoming the New Synthetic You, One Byte at a Time, I dive into the burning question in everyone's mind. Is my food safe to eat? You will learn that our entire food supply has been intentionally corrupted. There is nothing left that is pure and safe to eat or drink. No, there is no diet that you can eat to be free of the SynBio menace. What about my Farmers Market? Organic? Heirloom? How safe is wildcrafting and hunting and fishing wildlife? Well, the techno devils have messed up the whole food supply system so that you cannot relay upon it unless you take their 3D printed food with a few weaponized microbes for flavoring, not to mention it is a subsistence diet. This means you will be paying very high food prices for the privilege of their technology to kill you.
Module 6:    Your Techno Future
3 hours, 22 minutes video
204 slides   
In this Module we look at the dystopian world that is being engineered using Synthetic Biology as a tool. We will drill down into Directed Evolution and Experimental Evolution. Who are the actors animating this Synthetic System? You will learn some of the fallout from the deployment of SynBio from ecological to waste. How does witchcraft work with this new system? What part do Invasive Species play? We touch briefly on Animal Vaccines and add to what we have already learned about transmission and spreading of particle weapons. How do parasites fit in? Learn or have a handy reference on key Synthetic Biology words so that you are not caught unaware. 
Module 7:    Prayers That Shake Heaven and Earth with Dan Duval - 
 There are no slides for this Module, video only.
2 hours 13 minutes video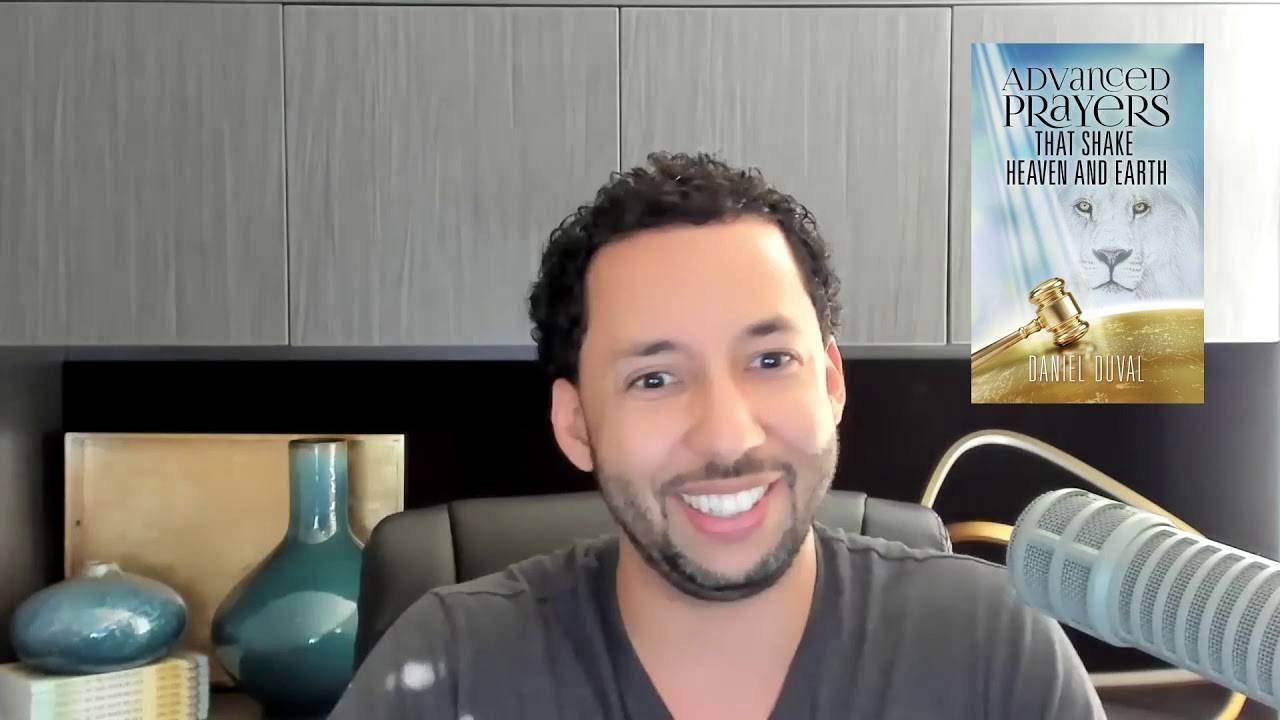 If you need some inspiration and hope at this point in my Synthetic Biology Webinar this Module 7 is for you!   
In this Module I interview Dan Duval who has a ministry named, Bride Ministries, LINK to equip you and your loved ones and friends with strategic prayers to extricate this wicked technology from your body and overcome fear. As an undergraduate Dan designed synthetic biology and as a solid Christian with the help from the Holy Spirit has assembled prayers to address and conquer the issues of our day. We do go down the rabbit hole on some topics you rarely hear elsewhere.   
As you pray these prayers you will discover that you become free to go through these End Days with peace, joy, and assurance. You will be able to walk confidentially as you take on the mission to either stand or slay these synthetic giants.  
Dan has, what I believe, are three critical books that will take your prayer life to the next level. They are powerful.  
Prayers that Shake Heaven and Earth 

Advanced Prayers that Shake Heaven and Earth 

Extreme Prayers that Shake Heaven and Earth. 
You can order these books through Bride Ministries or Amazon. 
Many of Dan's prayers are on his website at this link, LINK.  These prayers are a comprehensive list dealing with many topics such as technology, genetics, family and bloodlines, physical affliction, spiritual torment and oppression, provision, travel, children, pets, persecution, and non-human or fallen angel bloodlines. 
Module 8:   The Weapons of SynBio 
2 hour 30 minute video 
190 slides
Key Words: Synthetic Biology, SynBio, NOAH Ark, 3D Print, AI Attendant, ALICE, Alice in Wonderland, TAMI, Catastrophic Risk Management Act 2022, S 4488, Biocommunication, Virtual Neurons, Mind Virus, EEG, Cloning, Bioremediation, Biohacking, BioHybrid, Brute Force Hacking, Buffer Overflow, Information Overload, Memory, Logic, CELLPAT, Patterning, Chassis, CHAOS, Soul, Cell Factories, Bioreactors, Chasing the White Rabbit, CHRIST, Cipher Keyes, Commodity Chemicals, DARPA, Cornucopia Project, Cognitive Containment, Cybernetic, Cybernetic Global Brain Project, Dawn of the Damned, Mind Control, Microwaves, DEW, Diabetes, Dictionary Attack, Semantic Shell Game, DIY SynBio, DREAM, Dream Manipulation, Dual Use, Heterodyne, Black Magic, Nazi Surveillance, EDOM, Foglets, Utility Fog, Female, Feminine, Male, Masculine, Fertility, Fine Chemicals, Function, Fuel, GABRIEL